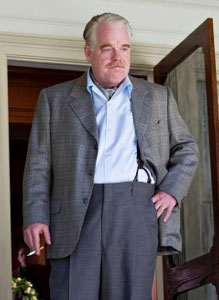 One of the most anticipated films of the year is master filmmaker Paul Thomas Anderson's The Master, a film that has been controversial since before it even began production because of its subject manner.  Thought to be a thinly-veiled look at Scientology, the religion founded by science fiction author L. Ron Hubbard that counts numerous celebrities among its membership, the film stars Philip Seymour Hoffman as the Hubbard-like Lancaster Dodd.  However, perhaps because of the movie's controversy, Hoffman is tight-lipped about the film, even in an interview with the Wall Street Journal.
In fact, Hoffman denies that he was trying to portray Scientology founder L. Ron Hubbard or even another well-known charismatic individual, Orson Welles.  He reveals, "People really want to talk about that but I didn't try to play Orson Welles either. There's nothing to look at here. It's like when you are thinking about something, a lot of ideas go through your head, and references go through your head but ultimately you are just looking for something in yourself. There are certain behaviors, the way people sound. I didn't really try to play anybody if that's what you're looking for."
Instead, Hoffman says he was inspired by the character's simple origins.  He says, "I had a unique view of the guy that he was a down-to-earth guy. You know what I mean? So it was like how do you get a guy like that to be so successful? Gathering people, moving people getting people to follow him—it's a unique kind of thing. So it's a lot of different things."
In fact, Hoffman goes as far as saying, "It's not a Scientology movie. It's something else," and adding, "If people are going to be that literal about it then they are. But it's not something to be taken literally or my character would be called L. Ron Hubbard. People do this all the time. Films are like that all the time. They are inspired by things but they are not those things. Every season there are films like that. But because it's around that thing people are paying attention to it."
Hoffman also has praise for his co-star, Joaquin Phoenix, who plays a man who seems several degrees away from a violent mental breakdown.  Hoffman says, "You always try to keep it fresh. The character is wild. So yeah, he had to be that way, not so much Joaquin but the character… I mean, a lot of people are unhinged. I've worked with a lot of characters that are unhinged. I've played characters that are unhinged. That's, like, my job."
Regardless of how closely it is connected to Scientology (or not), The Master is expected to be one of the most critically lauded films of the year — with a lot of that coming from the lead performances.