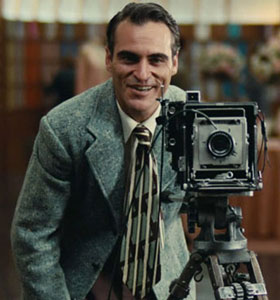 Joaquin Phoenix is known for going Method-deep into his roles even going so far as to appear as "himself" on Late Show with David Letterman a few years ago.  Now, he's taken on another seriously dark part in Paul Thomas Anderson's take on a Scientology-like religion in The Master.
Phoenix spent a lot of time preparing for the part of Freddie Quell, an alcoholic, WWII vet.  "Paul will write many, many scenes that won't make it into the movie," Phoenix told Time.  "There were a lot of scenes where we saw what Freddie had experienced in the war, and a lot of the physical damage that had occurred.  There is reference to some of that in the beginning of the film.  He was physically scarred as much as emotionally scarred by his experience in the war.  Then Paul kept sending me all these songs by artists from the period, Judy Garland, Nat King Cole.  A lot of the songs also had references to physical damage.  If you've ever seen a stray dog that's skin and bones and has a limp and is on the streets—that's Freddie."
But Phoenix won't reveal all of his acting secrets.  The actor said about an especially difficult scene in the film, "Magicians don't talk about how their tricks work, because people would go, [affects prim, nasally tone] 'Oh, that's all you do?'  No, we work very hard!  We are working.  Very.  Hard.  Paul set up two cameras to capture us from both sides, so we could be in the moment and not be worried about shooting the one side and then re-lighting and shooting from the other side.  That made a huge difference.  We spent the most amount of time on the very last bit, when Phil [Seymour Hoffman] smokes a cigarette and says, 'I like Kools.'  I started laughing every time he said 'I like Kools' and kept blowing the take.  And then you'd hear Paul start laughing and I'd start laughing again.  It's funny to think of it as an intense scene, because my memory of it is just uncontrollable laughter."
Phoenix credits Anderson with the film's exceptional quality.  "I told Paul that I was going to do things that would probably feel very uncomfortable to me, that I didn't know if they would work, and I would rely on him to tell me," the actor said.  "I guarantee if you saw some of the rushes you would think I was the worst thing in the world.  It's a process I don't completely understand.  I don't know that I want to."
"Paul called me Bubbles on the set.  Bubbles was Michael Jackson's pet monkey, and I was Paul's pet monkey.  The key to Freddie is an animal, just pure id…that was the key to Freddie.  And Paul certainly called me his pet monkey."
But Phoenix is quick to point out that he didn't dislike being compared to a pet.  "I didn't mind it at all!  I love having a master.  I have no problem serving my director.  That's my job.  I want to make them happy."
The actor also enjoyed working alongside Hoffman, who plays the leader of the religion.  Phoenix recalled, "In the scene in The Master where Phil is arguing with the fellow who's saying that the Cause is a cult, I saw Phil genuinely shaking with power and energy and things coursing through his body that he couldn't control, because he was putting so much into the scene.  I did not want him to look at me, I did not want to make eye contact with him, I tried to stay away from him.  I was terrified of him, because he was a f—–volcano."
The Master comes out Friday, September 21.