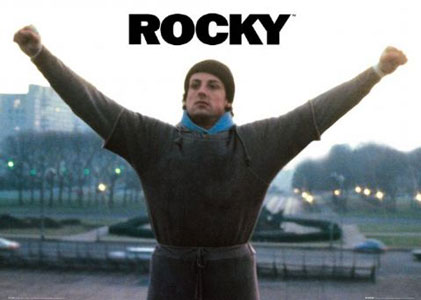 The Rocky film franchise might be my all-time favorite series of films.  Sure, there are some that are better than others, but overall the series has a fantastic rags-to-riches-to-rags-to-riches narrative arc that anybody who's ever persevered for something can relate to.  I was even happy to see star Sylvester Stallone return to the franchise for the series' swan song, Rocky Balboa, in 2006 despite most people rolling their eyes at the prospect. 
Ultimately it turned out to be a great movie, and once it was over I figured that was it for the Italian Stallion except for the occasional home media anniversary reissue.
Well, I was definitely wrong about that. According to the New York Post, Stallone — who could never be accused of not knowing how to milk a franchise — announced in Hamburg, Germany that he will be producing a musical version of Rocky with boxers Wladimir and Vitali Klitschko, brothers who collectively hold boxing's world heavyweight title (older brother Vitali holds the one championship title that Wladimir lacks to make Wladimir the undisputed champion).  The Klitschko brothers also plan on training the lead actor to appear like an authentic boxer.  Stallone claims that the Rocky storyline — particularly the famous romance between Rocky and Adrian — is perfect for a musical, pointing out, "I've always thought Rocky had the right stuff for a musical and have wanted to do it for a long time." 
Songwriter Lynn Ahrens and composer Stephen Flaherty, who won Tony Awards and Drama Desk Awards for Ragtime and also collaborated on the music for the animated film Anastasia and for other musicals like Seussical and Once on This Island, will be writing the play's music.  However, Rocky series favorites like Take Me Back, Eye of the Tiger, and, of course, Gonna Fly Now.
Stallone is optimistic on finding the right actor to fill his boxing boots.  He says, "I imagine I will be able to help the future star of the show to learn the body language of Rocky, and to develop a feeling for the character.  Boxers are always tense, always moving around, and each one has his own characteristics."
Now I'm not sure how exactly this will turn out — the musical will premiere at Hamburg's Operettenhaus in November 2012 before any potential U.S. run — but I imagine it would do strong business at the Kimmel Center in Philadelphia!