American Idol had tons of performers on its finale last night, but the only one I had any real interest for were Bono, The Edge and Reeve Carney performing 'Rise Above' from Spider-Man: Turn Off the Dark.
Ok, I did stop and watch Jack Black and the 22 year old guy with the Grizzly Adams beard sing.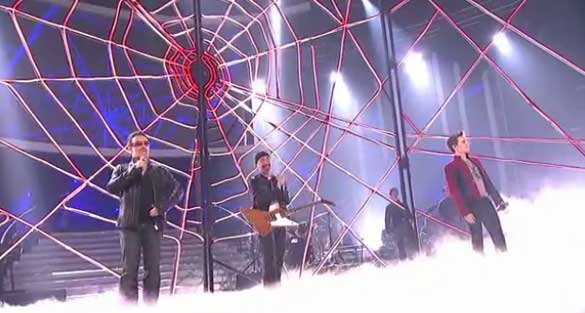 The show, in its original form, was awful and out of 10/15 songs in the show, Rise Above was the only one I loved or even remembered.
Did you like it? I did. Especially the opening with Spider-Man flying around and The Edge killing it on guitar. Maybe I'm a sucker, but I'll definitely be in the audience to see the show when I'm back in NYC in a couple of weeks.
If you didn't get a chance to see it last night, check it out below!