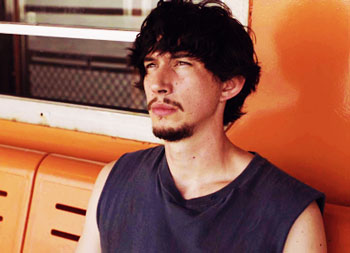 Adam Driver, who plays the lead hipster on HBO's Girls, is not one of those actors who enjoys watching himself onscreen.
"I can't help but watch something and nitpick all the mistakes and then replay them over in my head for months afterward, and not only drive myself crazy, but everyone I'm around crazy, too," he said to Interview magazine.  "I almost feel like an egotistical prick.  I think it's a thing I have to get over, but for now I keep noticing all the problems that I want to fix.  And I know what it feels like to play it, so I'm not so interested to see what it looks like."
Driver has been particularly analytical about his performance as Adam on the show.  "I saw the pilot for Girls about six months before it aired," he remembered.  "I watched it with Lena [Dunham, creator/writer/star of the show] on her laptop in her apartment and I was like, 'No…I can't do this.'  I kept replaying it in my mind, overanalyzing things in a way that I didn't think was helpful.  So I said, 'If this is going to continue to go forward, I don't really want to know how it's being translated, what shots actually make it in there.'"
Driver's next project is Noah Baumbach's film, Frances Ha, with Greta Gerwig.  The indie is a black-and-white film about an offbeat dancer (played by Gerwig.)  "I had an amazing experience working on it," Driver said.  "I was involved in a play at the same time, so I'd rehearse the play during the day and go shoot the movie all night.  I remember a very specific moment when we were filming in someone's apartment in Brooklyn and they needed to bounce some lights to get the shot, and people were literally holding up their white t-shirts to bounce light.  That film was definitely made on a dime."
The actor didn't mind working on two projects at once.  "It was great," he admitted.  "Noah and Greta and the crew were so exciting to work with.  In a way, it was also really great to be so exhausted.  And since I didn't have the script, I didn't have any specific ideas ahead of time of what I wanted to put on top of a scene.  We were all responding to what was happening right then.  Interesting things always come from being really exhausted and really sick."
Along with an appearance in the new Coen brothers' movie, Inside Llewyn Davis, Driver is also involved in several theater projects, including a charity called Arts in the Armed Forces.
"I'm conflicted with theater in the city because you want to reach a diverse audience, and that audience doesn't typically go the theater," he noted.  "I believe in the power of theater, but sometimes it just seems like recycled air when you're performing for the same group of people.  Acting is a business and a political act and a craft, but I also feel like it's a service. 
"Acting believe it or not, can get very self-involved!  I feel fortunate to have been able to work on things with people who have a very specific point of view and perspective, and who feel like they're doing something very active.  Girls feels very active and stirring a conversation and controversial, and you can't really ask for more as an actor.  Working on things that start that conversation is pretty exciting."
Frances Ha opens in theaters May 17, and HBO has confirmed there will be a third season of Girls next year.