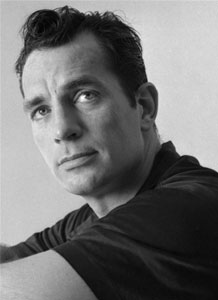 With the film adaptation of Jack Kerouac's "unfilmable" novel On the Road about to be released, it's not a surprise that new interest is being drummed up in the counterculture author's work.  Perhaps most notable is the University of Massachusetts Lowell is holding a Jack Kerouac Literary Festival, and the festival, which is celebrated in Kerouac's hometown of Lowell, is centered around the premiere of the only play Kerouac ever wrote, Beat Generation, which was written in 1957 (the same year Kerouac published On the Road). 
The play was discovered in a New Jersey warehouse in 2005 and published later that year.  Kerouac wasn't pleased with the script, which he wrote about a day in the life of him and his contemporary writers.  Similar to the n the play are stand-ins for Kerouac ("Buck), Neal Cassady ("Milo"), Allen Ginsberg ("Irwin"), and Gregory Corso ("Manuel") and it follows their lives in New York City for a single day as they consider where their lives are heading now that they are over thirty and have families.
This is the first production of the play, and it is being produced as staged readings this week through Sunday. For more information see the festival's website here.
via The Associated Press