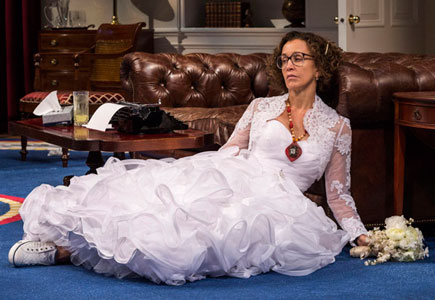 Felicity Huffman is enjoying her return to the theater world in the new David Mamet play, November. 
"There's all this breathing room to explore and discover and excavate," she told The Los Angeles Times.  "It's fantastic. With Desperate Housewives, the scripts changed all the time; you'd sometimes have to learn it in the hair-and-makeup chair!"
Huffman credits a play Mamet directed her in back in 1995 that helped launch her career.  "Because of that, I got Sports Night which eventually led to Desperate Housewives," she said. "I owe everything to Dave, everything.  He shaped my work ethic.  It's not about convenience or being comfortable; it's about telling the truth."
Huffman further raved about Mamet saying, "He's so truthful and specific.  He combines such erudite language with comedy and silliness.  It feels familiar."
Mamet also cast Huffman in her first Broadway play Speed-the-Plow, which she starred in after Madonna left the cast.  She recalled, "I'd sometimes go into work through the box office, and you'd hear people going: '[Madonna's] not in it anymore?  I want my tickets back!'  I didn't know what I was doing; it was just Dave's incredible loyalty."
The 49-year-old has also enjoyed returning to the rehearsal process.  "It feels like stumbling forward, joyously," Huffman said.  "It's like: 'whoops…oh wow…whoops.'"
November is currently playing at the Mark Taper Forum in Los Angeles.