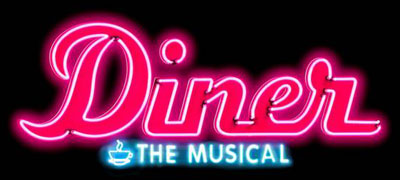 The producers of the upcoming Broadway musical Diner (BASE Entertainment Co-CEOs Scott Zeiger and Brian Becker) announced today that they have postponed its previously announced pre-Broadway engagement.
It was scheduled to play San Francisco's SHN Curran Theatre October 23, 2012, through November 18, 2012.
They have decided to instead take the time to "retool the production" for a more intimate Broadway venue.
The show is headed to Broadway in one of the most crowded spring seasons in some time and the production was originally envisioned and designed for a large Broadway musical house, but with the healthy crop of Broadway musicals and revivals there are more shows vying for large musical houses than are available.  So, faced with this challenge the producers and creative team decided to see if the show would work on a smaller level. As in work in a house of  no larger than 1,100 seats.
What's weird is that I never even envisioned the show to be a big-time, Hairspray-esque musical. I always saw it small, like Once. The producers saw the original film, Diner, right?
The re-tooled show won't be finished in time for it's San Francisco run so they will now use that time for a four-week, fully-staged workshop in New York.
The show still plans to open on April 10th, 2013.
"I love that we are envisioning Diner for a more intimate theatre.  I think Barry's wonderfully vivid characters and Sheryl's fabulously rockin' score will be even more thrilling in a smaller venue where the audience can experience the show viscerally," said director/choreographer Kathleen Marshall.
Based on the critically acclaimed 1982 film, the show has a book by Academy Award winner and original Diner screenwriter Barry Levinson, music & lyrics by 9-time Grammy Award-winning singer-songwriter Sheryl Crow, and direction and choreography by 3-time Tony Award winner Kathleen Marshall.