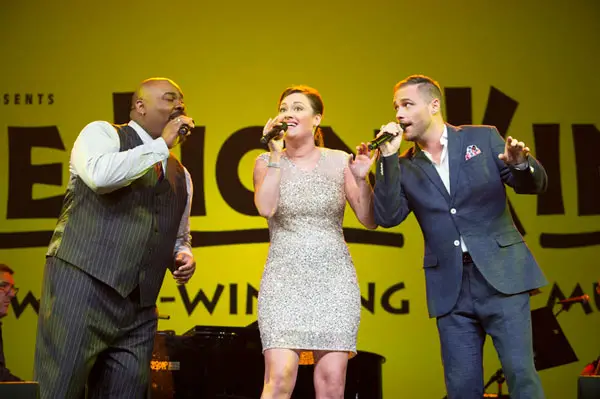 Disney turned up the dial to 11 this past weekend.
At D23, they had a panel called, 'The Originals: Disney on Broadway,' where Broadway's original 'Tarzan' (Josh Strickland), 'Mary Poppins' (Ashley Brown) and 'Genie' from Aladdin (Tony winner James Monroe Iglehart) came out and literally blew the audience away in two jam-packed performances.
I honestly thought they would perform a few songs, answer a few questions and then call it a day.
But wow, I was wrong.
The three stars gave a performance that I'll remember for a long, long time. They treated the audience to songs from every single Disney theatrical musical that's ever been produced; from Beauty and the Beast, Mary Poppins, Lion King, Newsies, The Little Mermaid, Aida, The Hunchback of Notre Dame, Tarzan and the upcoming, Frozen.
Backed by a five-piece band they dubbed 'Sustainable Fish', the three were in perfect form. Strickland wasn't really on my radar before this show but did he ever impress me. His vocal range is outstanding and it immediately made me want to pick up a copy of the Original Cast Album of Tarzan. Brown sang 'Feed the Birds' and I'm betting there were more than a few tears shed by the time she finished.
But the real star was Iglehart. He's a true entertainer and his big voice and body gives him a larger-than-life presence on stage. At one point, they showed a clip of him getting the news of him being cast in Aladdin. It was one of the best moments of the show. You like him so much that when you saw the news, you couldn't help but be happy.
The show was well-rehearsed but there was one minor glitch in the performance I saw: Strickland began singing 'Let It Go' from Frozen. He stopped and started 3 times and you could see that he was frustrated. Iglehart and Brown were laughing, as was the audience. It was a fun moment that was so genuine and true and original.
There's nothing like live theatre.