Actor Christopher J. Hanke is currently commanding plenty of applause these days on Broadway for his role in How To Succeed In Business Without Really Trying where he plays the arrogant and snobbish character Bud Frump.
A busy performer these days with the 2011 revival, Hanke, who left Hollywood behind for a year long commitment to the 50's adaption, appears to be having the time of his life playing the comic villain according to his latest interview with Broadway.Com, even if he (as the outlet points out) seems more like Finch, who is played by his co-star Harry Potter star Daniel Radcliffe.
"The Finch thing is kind of obvious. Yeah, I could do it, but I wouldn't want to do it in this production—and thank god I'm not, because the show would have closed by now!  I have no problem playing a comic villain. It's fun to do something unexpected and to deliciously crawl all over the stage, metaphorically and literally. Frump has been a joy to create," he said.
Seen over the course of his career in TV series such as Three Rivers, Big Love and Brothers & Sisters, Hanke doesn't seem to regret leaving it all behind for a short time.  "All of those TV shows happened in a short period of time—Three Rivers was my third audition in L.A.—and I rode that ride for all it was worth. Then Broadway came a-calling, and when you have a chance to play a funny part opposite one of the biggest movie stars in the world and one of the best comedians in the world [John Larroquette], you say "yes." I didn't feel like I was going to lose anything by being gone for a year, and as soon as my contract is done, I'm going to head back to L.A. and pick up where I left off."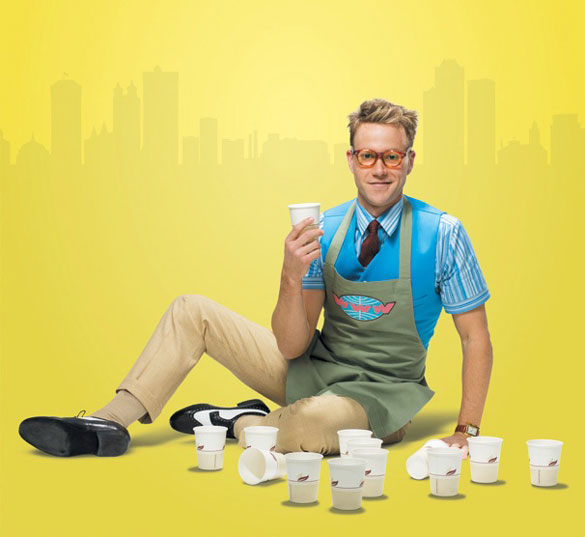 When he does finish his run on How To Succeed the Full Monty star does plan to return to L.A., the place he now calls home after being raised in Arkansas. "CBS moved me out there when I got Three Rivers, and once I got a car, it brought me back to my roots of growing up in the south.  I enjoy having a larger apartment, for less money, than I had in New York, and being able to drive to the grocery store and put my gym bag in the trunk rather than carrying a backpack around for 12 hours. It's nice to live a more normal life."
The former medical bound college student turned actor has even surprised his family with his success and talent.  "When I told my father I wasn't going to go to medical school and was going to be an actor, his quote was something like, "Great. I wasted $300,000 on education for my son to become a waiter." Once he saw me in my first three productions, it all changed. He cried and said, "I had no idea you could do this." Now people want to interview him, and he denies he ever said anything. Parents forget quickly!"