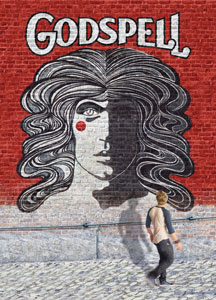 Who says Broadway dreams don't come true? For some in the ensemble in the revival of Godspell, which opened earlier this month at Circle in the Square Theatre, appearing on Broadway was a distant dream that is finally being fulfilled.
Take George Salazar, an actor who was working at the Bubba Gump Shrimp Co. in Times Square this past summer when he received the call to audition for Godspell.  But this wasn't a typical audition at all.  According to the Huffington Post, "His manager said producers of the musical were also asking performers to prepare their own improvised take on a Bible parable. And Salazar had little time to prepare – his audition was the next day."  As Salazar says, "Here I am with shrimp on trays and drinks in my hands, and I'm going, 'When am I going to do this?'"
But after three months and five auditions, Salazar landed a role in the ensemble.  Receiving that call was exhilarating, with Salazar explaining his reaction as, "I lost it. I was a sweaty, crying mess in the hallway on the ground. It was a moment I will never forget." 
Meanwhile, unlike Salazar, Anna Maria Perez de Tagle wasn't hanging around Time Square.  The California native happened to be flying into New York when the auditions were held.  While she has a background in regional productions, she could best be described as a Disney brat, previously appearing on Hannah Montana and in the movies Camp Rock and Camp Rock 2: The Final Jam.  That first audition lead to others, and she also landed a part in the ensemble.
But Salazar and Perez de Tagle have nothing on their fellow ensemble member Celisse Henderson, who was originally meant to appear in a Broadway production of Godspell in 2008 after playing the role in a 2006 production at New Jersey's Paper Mill Playhouse.  The move to New York was canceled, but had some trouble getting to the Great White Way though she had some success, "She was seen off-Broadway in In Transit; had a recurring role on The Electric Company; was in a national touring company of Wicked" and released her debut album Show and Tell last year. But Broadway was elusive. Until now."  But none of those accomplishments compare to appearing on Broadway, as Henderson says, "It's sort of come in a beautiful time in my life. I've been working in the business since I was 17.  Now it's become the best thing that's ever happened to me."
Of the three, however, Salazar has the final word: he explains that despite their varied paths to Godspell, they all have each other's full support.  "There are no egos, there are no personality clashes. Everyone works so well together and we have so much fun.  We hope that there's a real long healthy run because, I don't want to stop working here."