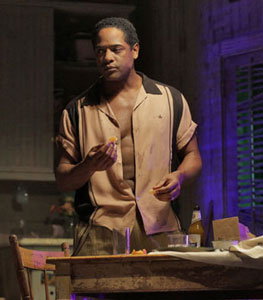 Making your first appearance on Broadway is intimidating enough, but taking on the role originated by Marlon Brando in A Streetcar Named Desire? 
Blair Underwood is stepping into pretty big shoes when he stars as Stanley Kowalski in the current revival of Tennessee Williams' iconic play.  This production features a multiracial cast, and the Williams estate has given the production permission to drop the last name "Kowalski" from the play so that Underwood, and African-American, could play the role.  Underwood spoke to NPR about what he finds challenging in playing one of the most famous stage roles in American theatre.
Despite the fact that today is a very different era than the time the play is set in, Underwood feels at home in the character.  He explains, "How I play Stanley is how I wake up every day as an African-American man.  I start with my heart, I start with my humanity, I start with my soul. The script and the book is exactly what Tennessee Williams wrote, and it's astounding how it resonates in a unique way coming from actors who have a certain cultural alignment or aesthetic."
Since the play takes place in New Orleans, Underwood has no trouble reconciling with the concept that the DuBois characters come from a wealthy southern African-American family.  He says, "In this story, it is wholly consistent historically and accurately to have the DuBois sisters to be free people of color. Now, free people of color were more probably prominent in the New Orleans South in Louisiana, but it's fascinating because with an African-American cast, if you know the South, you know that it's authentic and historically accurate."
Of course, while Underwood can reconcile the current production's multiracial cast with William's original text, he isn't pretending that playing Stanley is easy.  There's some intimidation, especially focused on delivering Stanley's most famous line.  He says, "It's a precarious area to step into.  It is one of the most iconic moments not only on film, but on the Broadway stage. It is a cry from the heart … as long as it's connected to that desperation and the depth of pain and loss in that moment." 
He adds that Stanley's cry, which comes shortly after beating his pregnant wife, carries some emotional history, "You can gather that's it's more than likely happened before and there's probably a conversation in the back story where she said, 'If it happens again, I'm leaving you,' so that heightens the stakes in terms of his desperate cry from the heart."
A Streetcar Named Desire is currently running at the Broadhurst Theatre through July 22.