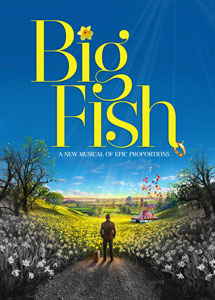 Big Fish, a new musical based on the novel by Daniel Wallace and the 2003 film written by John August and directed by Tim Burton is bound for Broadway.
The musical will begin previews on September 5th, 2013 with an opening date of Sunday, October 6th at Broadway's Neil Simon Theatre (250 West 52nd Street). 
Starring two-time  Tony Award winner Norbert Leo Butz – yay! – (Dirty Rotten Scoundrels, Catch Me If You Can) as Edward Bloom, Tony Award nominee Kate Baldwin (Giant, Finian's Rainbow) as Sandra Bloom, Tony Award nominee Bobby Steggert (Giant, Ragtime) as Will Bloom, Krystal Joy Brown (Leap Of Faith) as Josephine Bloom and Zachary Unger (Chaplin)as Young Will. 
The show will also featuring Ryan Andes, Ben Crawford, J. C. Montgomery, Tony Award nominee Brad Oscar, Kirsten Scott, Sarrah Strimel and Katie Thompson, BIG FISH has a cast of 27 that includes Preston Truman Boyd, Alex Brightman, Bree Branker, Joshua Buscher, Robin Campbell, Bryn Dowling, Jason Lee Garrett, Leah Hoffman, Synthia Link, Angie Schworer, Lara Seibert, Tally Sessions, Cary Tedder and Ashley Yeater.
Directed and choreographed by five-time Tony Award winner Susan Stroman (Contact, The Producers, The Scottsboro Boys), with music and lyrics by Grammy and Tony Award nominee Andrew Lippa (The Wild Party, The Addams Family), a book by Grammy and BAFTA Award nominee John August (Frankenweenie, Charlie and the Chocolate Factory).
The show plans to have its pre-Broadway world premiere at Chicago's Oriental Theatre in a limited 5-week engagement. Performances will start Tuesday, April 2nd, 2013 and play through Sunday, May 5th. 
Synopsis: A rollicking fantasy set in the American South, BIG FISH centers on the charismatic Edward Bloom (Butz), whose impossible stories of his epic adventures frustrate his son Will (Steggert).  As Edward's final chapter approaches, Will embarks on his own journey to find out who his father really is, revealing the man behind the myth, the truth from the tall tales.  Overflowing with heart, humor and inventive stagecraft, BIG FISH is a tribute to the power of family, dreaming big and the unpredictable adventure of life itself.
"Big Fish: A Novel of Mythic Proportions" by Daniel Wallace was first printed in 1998.  In December 2003, a critically acclaimed film of Big Fish was released by Columbia Pictures directed by Tim Burton, starring Ewan McGregor, Albert Finney, Billy Crudup, Jessica Lange and Helena Bonham Carter.  The film was nominated for an Academy Award, Grammy Award, 4 Golden Globe Awards and 7 BAFTA Awards.