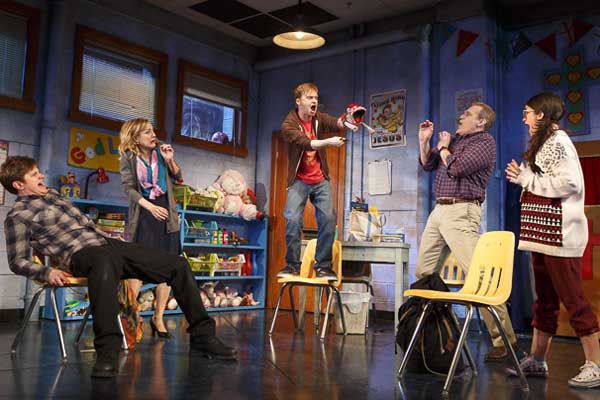 While here at Daily Actor our focus is on acting, we also like to highlight incidents of bad audience behavior in theaters. After all, actors have to be prepared to handle some of the rude or thoughtless from audience members.
Cell phones have been the root of most obnoxious audience behavior in recent years. Kevin Spacey once yelled at a theatergoer for letting his or her phone ring during a performance, and a critic once even threw the cell phone of a fellow audience member who would not stop using it. But the cell phone incident that happened prior to the July 2 performance of Hand to God at the Booth Theatre on Broadway takes the crown as the most brainless behavior we've heard of yet.
According to a production spokesperson, shortly before the production began an audience member got out of his seat, went on stage, and plugged his phone into a (non-working) outlet that was part of the production's set. As for how the situation was handled, the spokesperson says, "The crew had to stop the precook music, remove the cellphone, and make an announcement as to why you can't do that. Truly. I am a quiet and reserved person and I took great joy in loudly heckling the idiot when he returned to take his phone back. Moron. Has theatre etiquette–heck, Common Sense–[really]fallen that far??"
Cast members Marc Kudisch and Sarah Stiles both commented on the incident on Twitter, so hopefully other patrons do not make the same mistake in the future.
A guy jumped on the stage and plugged his phone into the fake outlet on our set just before we started. @HandtoGodBway #fullmoon or #idiot ?

— Sarah Stiles (@Lulubellestiles) July 3, 2015
Dear general audience, an electrical socket that's a part of the set of the play is NOT for you to charge your iPhone…..just an FYI…..

— Marc Kudisch (@MarcKuds) July 4, 2015
via Playbill