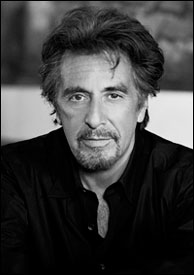 Usually it pays for Broadway producers to cast big-name actors to draw huge houses.  But how much exactly do those big names make?  For Al Pacino, who stars in Glengarry Glen Ross as Shelly Levene, it's money that most Broadway regulars could only dream about.
Believed to be perhaps the highest of all time, Pacino's paycheck for the David Mamet play is $125,000 a week plus five percent of the profits, though only after the production makes back its reported $2.3 million costs.  That amount seems even more significant considering the salaries of the entire seven-person cast total total $155,000 a week, meaning the other six cast members make collectively $30,000 a week, including Tony-nominated actor Bobby Cannavale, who plays Ricky Roma (the character Pacino played in the 1992 film version in an Oscar-nominated performance).  Even Pacino's assistant makes $1000 per week!
Even with ticket prices approaching $400 for "premium" seating, producers must sell out most of The Gerald Schoenfeld Theatre's 1062 seats in order to sell the almost $900,000 in tickets sold per week the show will have to do over its ten-week run in order to cover its day-to-day bills and make back that $2.3 million investment.  But if demand for tickets push prices up, it's more good news for Pacino: he earns 10 percent of box office if the grosses are above $1.25 million per week.  The rest of the show's profits are split between the director, Daniel Sullivan, the three lead producers, the theatre, and the many other investors. 
Ticket sales for the play's first four previews amounted to $704,000, so it's currently on track to make a handsome profit (Glengarry Glen Ross has seven performances per week) if that amount holds out.  If the massive success of this year's Death of Salesman is any indication, it certainly pays for producers to offer huge amounts of money to iconic stars to appear on stage.
via Bloomberg