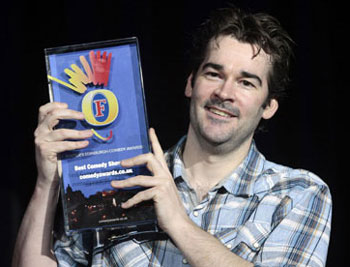 Edinburgh Festival Fringe veteran Adam Riches recently won the Scottish art festival's top honor, taking home the Foster's Best Comedy Show award.
The 38-year-old English actor won the prize for his performance in Bring Me the Head of Adam Riches, which features his "trademark mix of character comedy, anarchic stagecraft and a fearless level of audience engagement," according to Edinburgh Fringe officials.
"It is very physical character comedy, very fast paced with a lot of audience interaction as well. They're embroiled in the story and events, just sort of lively. That was just what I always wanted to do in Edinburgh," riches explained of his one-man show. "I'm conscious of the weather, conscious of people's moods, conscious that they have seen six or seven shows that day, so I wanted to devise something that swept them up, shook them up a bit and then booted them back out in to the festival."   The month-long Edinburgh Fringe is the world's largest arts festival and featured over 500 performances at its 2011 incarnation. The festival's Nica Burns said organizers struggled with "an extremely strong shortlist and a very hard decision" before singling out Riches.