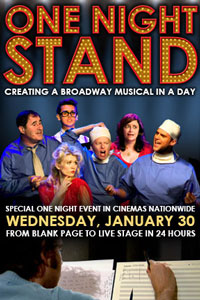 Fathom Events is partnering with Overnight Musicals and The Broadway League to bring the documentary One Night Stand: Creating a Play in a Day to select theaters for (appropriately enough) a special one night event on January 30.
The movie documents the insanity of several New York actors, including Cheyenne Jackson (30 Rock, Glee), Jesse Tyler Ferguson (Modern Family) and Rachel Dratch (Saturday Night Live), and a team of writers, composers and directors as they create four short musicals in only 24 hours.  Yes, that's writing, casting, composing, and rehearsing in 24 hours, followed immediately by the opening at New York City's Gramercy Theatre. If it wasn't all done for charity, I would've expected it was sadomasochism.
Naturally it isn't a smooth process, which of course only adds to the hilarity.  Lance saw the documentary back in July and liked it so much he immediately watched it again.  I'd say that's a pretty good endorsement, right?
Tickets for One Night Stand: Creating a Play in a Day are available at participating theater box offices and online at www.FathomEvents.com.  It will be broadcast in over 450 theaters across the United States, so check the listings to see where it's playing in your area.