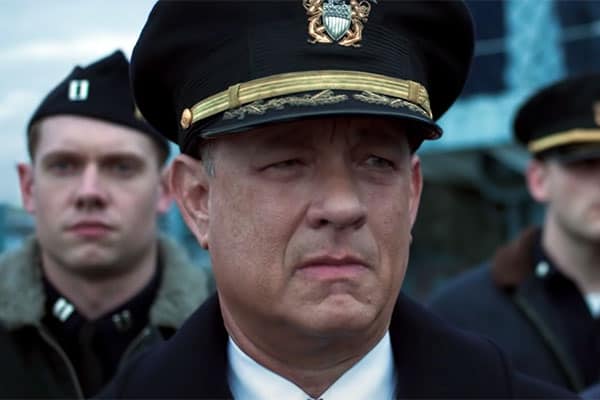 "I try to bring to any of these roles… the question anyone could ask… 'What would I do if I was in his shoes?'" – Tom Hanks
While Academy Award-winning star Tom Hanks is best known as an actor, he's also racked up an impressive number of credits behind the camera. One of them is as screenwriter-producer of Greyhound, in which Hanks portrays Navy Commander Ernest Krause facing an attack in the early days of World War II.
The film (which was released on Apple TV+ instead of theaters because of COVID-19) is Hanks' first screenplay since 2011's Larry Crowne, which was one of the biggest box office failures in Hanks' career. Greyhound has already received a much better reception, and in an interview with The Guardian, Hanks talks about playing authoritative figures, his roles and how he manages to come off so comfortably with everyone.
Hanks admits that when it comes to typecasting, he has played an awful lot of people with the title of "Captain." But he points out that while all of those characters have the same title, they are very different individuals placed in different situations. He explains, "Look, I've played a lot of captains. Capt Jim Lovell [in Apollo 13]; Capt Richard Phillips [in Captain Phillips]; Capt Sully Sullenberger [in Sully]; Capt Miller in Saving Private Ryan. But I try to bring to any of these roles, and specifically to Ernie Krause, the question anyone could ask… 'What would I do if I was in his shoes?' Then it ends up being something more palpable than a museum piece of what it was like to be on this ship in the north Atlantic."
Hanks has done an extraordinary job of "aging" gracefully into his roles, from playing a kid (literally) in Big to portraying mature men in his sixties. Hanks admits that he saw the shift in the age of the characters he was playing coming, though he still landed "younger" roles from time to time. He says, "There was a moment, after A League of Their Own, when I just felt that I wasn't going to play a certain kind of young man any more. I was older and I'd experienced some degrees of bitter compromise in areas that are not public. So I started looking for stuff that was different. But I was surprised when I would get these offers. When I said to Ron Howard: 'Gee, I'd really like to make a movie about Apollo 13,' I thought he'd say: 'OK, but you gotta be one of the guys with the headset in the big room in Nasa. You don't have the moxie [to be the star].' But I have a job where I pretend to be other people, and it's worked 51% of the time." (Most would likely give Hanks a much higher percentage than that).
Though Hanks has a reputation as being the nicest guy in Hollywood, he admits that part of that comfortability with people comes from his ability as an actor. He explains, "Ever since I was a little kid, I've been aware [that I have an ability], in a way my brothers and sister did not have, to walk into a room and make everyone believe I was incredibly comfortable with being there. And that, along with attention deficit disorder, turned out to be the perfect combination for becoming an actor"