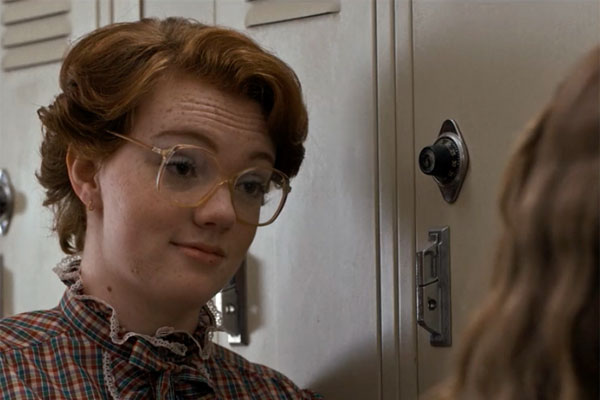 "I was thinking, this is the biggest thing I've ever done and how cool would it be if I actually got this? And I did!" – Shannon Purser on Her Audition for 'Stranger Things'
Stranger Things is Netflix's latest original offering, and it's taking the world by storm. Set in small town Indiana in 1983, the show follows a group of children who pull together to solve the disappearance of one of their friends. As the show progresses, the missing boy's mother (played by Winona Ryder), the local Sheriff, and various other characters, discover an alternative universe as well as a girl with special powers. The show has been a hit for a number  of reasons; the gripping storyline is utterly compelling and the performances from the ensemble cast are spellbinding (particularly Ryder, who absolutely shines). Add into that, the soundtrack, which is great, and the real, honest homage to not only the eighties but also films of that era, and you have a thoroughly enjoyable hit on your hands.
One of the standout characters that has become a firm fan favorite, is Barb. Played by newcomer Shannon Purser, Barb is the best friend of Nancy Wheeler.Both are hard working High School students, only Nancy  is the pretty one who's discovered that boys like her and Barb… well, Barb is the third wheel. However, far from being weak and accepting of her fate, Barb is strong willed, determined, and unafraid to tell Nancy exactly what she thinks of her behavior. Barb has become something of an internet sensation; the subject of many memes, GIF's, Tweets, and more. For Purser, who loves the character just as much as fans of the show do, playing Barb has been a great experience.
"I love Barb, and I love the character and I had a great time, and I thought maybe a couple people would notice me and think that she was a fun character. And then to wake up and see all these tweets and Instagram posts and all this support for her… It was so surreal, so amazing."
"Walking into not only my first production, but also one on this scale, was incredible. From the very first day I went to the studio, when I auditioned, I saw the huge soundstages and I was totally floored. I was thinking, this is the biggest thing I've ever done and how cool would it be if I actually got this? And I did! And being on these incredible sets that the crew put so much work into creating and designing, seeing the cameras and the equipment, and working with all these talented, talented people—it was overwhelming and it was amazing. It kind of confirmed this is definitely what I want to do for as long as I can."
Stranger Things has been Purser's first on screen role, and it's been quite the show to make a break in. Though her character might not be back for the second season, playing the role has at least given Purser a big step up the career ladder, and opened many doors.
"I have done some other auditions in the meantime, so I'm incredibly thankful that people are noticing the character and appreciate my performance and want me to become a part of their story potentially—that really means a lot to me. I'm so thankful for the experience and how it's really helping me get noticed as an actor."
So Purser's future looks bright, but as for Barb? Well, there are multiple fan theories and discussions floating around on the internet, concerning what course Barb's future might have taken, had we been given the chance to explore that, and Purser is appreciative of them all.
"I tried to play her as very independent and unapologetic of who she is and confident in her logic and reasoning. I know a lot of fans have speculated that she would get into a really good college, make the most of herself in a career, and really take charge. And I could totally see that, too. She's totally a boss, and whatever she ended up doing, she would succeed in it."
via Esquire