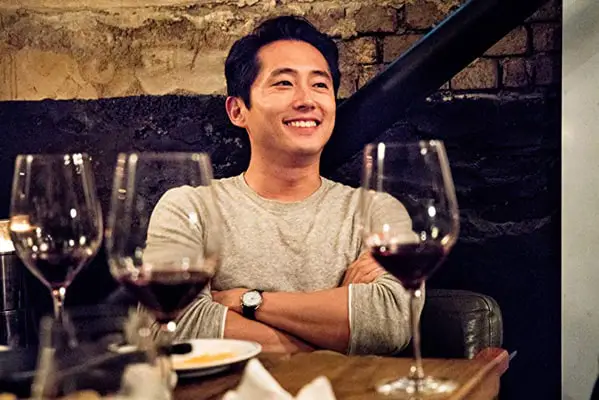 "I felt beige with Glenn. That was a little bit of the frustration that I could never explain to the wider society, to fans of the show." – Steven Yeun
The Walking Dead star Steven Yeun appears in his most significant role to date in the award-winning film, Burning. Haven't seen it at your local multiplex? That's because Burning was produced in South Korea by famed director Lee Chang-dong, but it has already earned rave reviews from this year's Cannes Film Festival and has been submitted as Southern Korea's entry for Best Foreign Language Film for the Academy Awards. In the film, Yeun stars as a mysterious, emotionally troubled individual who reveals to two acquaintances that he is a pyromaniac.
In an interview with Slate, Yeun explains why the role is unlike anything else he has ever been offered in his career and why his lengthy stint on The Walking Dead was not as fulfilling as he hoped it would be.
Yeun reveals that what had drawn him to the character was being able to play a multi-dimensional lead role in a flm. He explains, "After reading the script, I was like, 'Wow, I'm really going to get to play, to feel what it's like to live in this person's skin, be present in his present.' I realized in hindsight that nothing I had done prior gave me that feeling." Later in the interview, he points out that it's not the type of role that he or other Asian American actors are typically offered in Hollywood. He says, "I'll come back from Burning, and I'll be like, 'Will I ever get this experience again? Will I ever feel this free in a character? Will I ever feel like they're looking to get my best performance? Down to the lighting, the makeup, the boundarylessness that they project on me?'"
Speaking frankly, Yeun says that the roles that he is offered as a Korean American and cast in don't fully define who he is as an actor, saying, "I won't speak for other Asian American actors, because I don't know what they're being offered. But for me, it's like: nice guy, dependable, supportive, benign. Beige. And as a Korean man, I am not beige."
In fact, Yeun confesses that he was at times frustrated in his most famous role — Glenn on The Walking Dead, a role he played for six seasons. Reflecting on his time on the show and what aspects he felt proud about and what he felt frustrated about, Yeun says,
I felt beige with Glenn. That was a little bit of the frustration that I could never explain to the wider society, to fans of the show.

Am I incredibly grateful, and did I have a wonderful time on that show? Yeah! I wouldn't take that experience back at all. I made lifelong friendships. I got to learn so much. But I will say that I felt cramped. I felt like there wasn't space for me to fully spread all of who I was, and that was partly due to me, too, because when I started, all I was trying to do was to work within the parameters that they were giving me. And then, over time, I just outgrew it.

That's why it was beige. Because he was meant to be the heart of that show. When you look back, you go, "That's great, everyone wants to be represented that way. Why wouldn't you want to be a perfect being?" But I don't wanna [play] perfect, because we're not perfect. And that's a thing that I wasn't able to feel for a while, because I was holding up this ideal that was way bigger than me, way larger than any single human can possibly do. I became less and less interested in doing that.