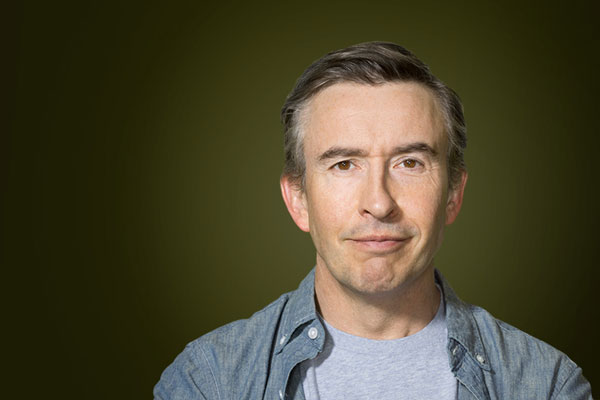 "I'm so used to being at the helm; this is kind of like a vacation for me. All I have to do is concentrate on the character and capture the voice." – Steve Coogan on Happyish
Steve Coogan is quite highly revered here in the UK. He brought us the wonderful character of Alan Partridge, who blundered his way through his own radio show and then TV chat show, unwittingly offending everyone he met and making us all laugh with the cringe worthy moments that followed.
Partridge aside, Coogan has also made a name for himself as a fine comedic actor and impressionist on stage, TV and film. You should definitely check out his turn as Octavius in Night at the Museum if you haven't already. Now he looks set to further ingratiate himself into the hearts and minds of US viewers with the starring role in Happyish.
Created by Shalom Auslander, Happyish is a dark TV comedy that was originally set to star the late Philip Seymour Hoffman. Described as a "send up of our disrupted decade," Coogan stars as Thomas Payne, a married 44 year old executive who struggles to readjust when his advertising firm is taken over by two twenty something brothers from Sweden.
The pilot was filmed with Hoffman before he passed away, and Coogan is more than aware what a challenge it will be to attempt to fill his shoes, saying he was warned against taking the role.
"That's definitely something that I'm acutely aware of. There were some people who said, "Ooh, do you really want to do that?" There's a sort of caution about stepping into such very big shoes. Some people might say, "Philip Seymour Hoffman would have been better in this." That's only to be expected. But when people caution me about something, it sort of makes me want to do it. Beyond that, it's the writing. I read it and I went, This is very good; I would love to do this. And Shalom talked to me, he rewrote it and geared it towards me, tailored it more to me. So I was happy to take on the responsibility. I felt like I've done enough in my career to put me in a position where I felt comfortable picking up that baton."
Coogan describes Auslander's world view as "slightly bleak" and says he tries to find the vulnerability in the role of Thomas Payne. It is a different approach to working for Coogan, who usually writes all his own material.
"This project for me is slightly unusual in that I'm just the actor and I've not written it," he explains. "That's quite nice; it's easier. I'm so used to being at the helm; this is kind of like a vacation for me. All I have to do is concentrate on the character and capture the voice."
Surprisingly, given that he is such an accomplished and successful comedian, Coogan says that if he had his time over he would work harder and strive to be better in all things. It sounds strange, given that most would view him as someone who has done very well indeed, but Coogan says it's less about trying to please everyone in life and more about being comfortable with who you are as a person.
"I would have… aimed higher," he says when asked what he would say to his younger self."I don't just mean that in a career sense, I mean be better, strive to be better in all things, and work harder, because you'll find it rewarding. I'd say, Be comfortable with who you are as well, just listen to yourself more. I suppose when I was younger, I wanted to get on and have a career and be successful. And try to be all things to all men. I don't do that anymore. Now I want to do things I believe in, and have a sort of honesty, in work and in life. When I was younger, I didn't really want to say anything contentious, because I thought it might alienate people who liked my work."