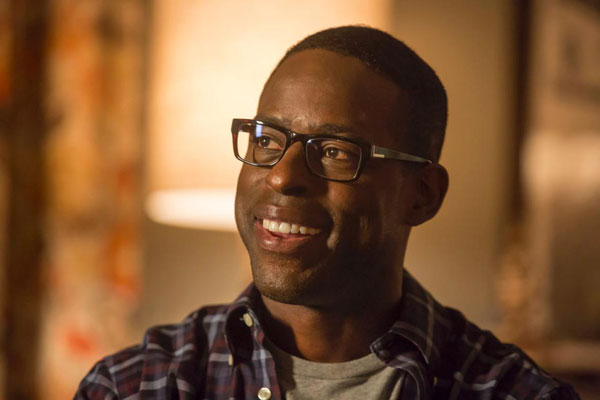 "I was used to being 'that dude from that show, who got shot in that episode'" – Sterling K. Brown
It's been quite a successful past two years for Sterling K. Brown. Between his Emmy Award-winning roles as Christopher Darden on The People v. O. J. Simpson: American Crime Story and Randall Pearson on This Is Us, Brown's profile has exploded after nearly 15 years of small roles in various TV series and films. Brown spoke to Deadline about his early years as an actor and how his career took a long path to his current success.
Brown reveals that he was bitten by the acting bug early. He recalls, "I discovered that I love being on stage in high school. My first play was Godspell—I was a member of the ensemble, and there's this part where you sing this song, [sings] 'Prepare Ye (The Way Of The Lord).' One night in particular, people were standing up and applauding. My buddy and I got up onstage and bowed, and were like, 'We gotta keep doing this shit.' It was the first time I'd experienced a high outside of athletics. I was a basketball player, football player. But this high was so pure—you get bit, and you just keep chasing that."
Nonetheless, Brown didn't initially pursue acting as a career. It took more encouragement from others to convince him that this was the right path for him. He continues, "I go to Stanford and I'm an economics major, not thinking I'm going to do anything with acting. A professor came to the dorm where I lived looking for people to audition for an August Wilson play, Joe Turner's Come And Gone. I gave it a shot, got one of the lead roles in the play. He said, 'Look, I know you're not looking to major in this, but you should keep auditioning. I think you could have some fun with it, and the department would benefit from your presence.' Every time I'd do a play, my grades would get better because I was doing something that fed my soul. It took me a couple of years to recognize that the hobby was actually the calling."
That encouragement convinced Brown to continue his education, this time in acting. He adds, "I go to grad school at NYU and I learn all these things about speech, and voice, and games. It's like camp for an actor, and I got a chance to immerse myself 12 to 14 hours a day in what I love. Then, I come out and have an agent, thankfully, from the showcase we had, and I did theater in Ithaca, New York, in Berkeley, in Minnesota at the Guthrie Theater. I start doing more local theater in New York City at the Public Theater, Shakespeare in the Park."
That experience led to opportunities in Hollywood. Brown remembers, "Then, you get a chance to ease your way into a bit of film and television. That was the natural progression. I came out to L.A. for pilot season, and in a couple of years I booked Army Wives, and during the hiatus, you do little guest spots here and there. That's what happens—you become a working actor. People will look at you and be like, 'Yo man, were you in my Boy Scout troop? Do I know you from church?' Whatever it is, because they see you for a moment and then you're gone. Then, something happens that catches the nation's attention in The People V. O.J., and you go from that guy who looks familiar to, 'Yo, Darden!' [Laughs]
It was quite a change for Brown, who recalls, "I was used to being 'that dude from that show, who got shot in that episode,' but at this point, which is really cool for me, people will say 'Randall,' but they also say, 'Are you Sterling K. Brown?' I didn't know that was ever going to be part of the thing."
Well, now he's officially a "thing" — no matter how long it took to get there!