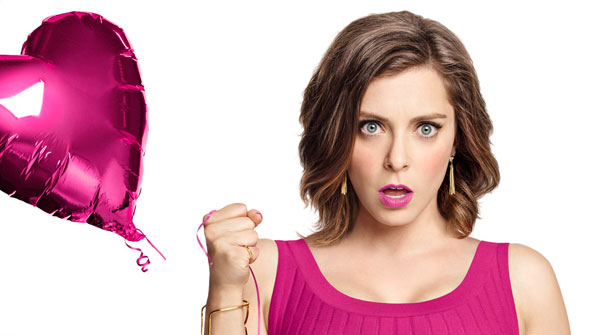 Few recent sitcoms have received the critical acclaim of Crazy Ex-Girlfriend, which stars actress and comedy songwriter Rachel Bloom, who co-created the series and has composed dozens of songs for the episodes. In an interview with NPR, Bloom spoke about why she sees her Crazy Ex-Girlfriend character as a "bubbly Walter White" and how a vulgar song about Ray Bradbury launched her career.
While Bloom admits that some aspects of her character — who follows her first teenage love from New York to California because, well, she's crazy — are based on her own personality, she points out that they are embellished to a villainous degree. She says, "I mean, I'd like to think it's an emotional autobiography. The show is about one person's search for happiness and how she conflates obsessive love with that. And she's wrong… And so in some sense, she's like this bubbly Walter White. Like, you know she's wrong the whole time."
Bloom first rose to prominence when her music video, "F— Me, Ray Bradbury," a song about her lust for the famed science fiction author that has been viewed over 3.2 million times on YouTube over the last six years. Bloom explains that the song came about from her trying to use her comedy in new ways, saying, "Well, I knew I wanted to be kind of my own one-person sketch group. And I had been going through a breakup. And I was reading – rereading The Martian Chronicles, which is still my favorite book. And I was realizing that what Ray Bradbury does and one of the reasons I love reading him is he uses high concepts – these science-fiction fantasy concepts to really explore emotion."
On how she took that inspiration into creating a video, Bloom continues, "At the time had been writing a lot of sketch comedy. And when you think of a funny idea, you kind of immediately want to think of a sketch. And I was like, oh, it would be funny to do, like, a sexy love song about Ray Bradbury. And I wrote out a rough version on the piano, and then I forgot about it for a year and a half. And when I graduated from school and I wanted to make my mark and kind of be my own one-person sketch group, I was, like oh, that song could be a really funny, like, first internet video for me. So I didn't realize how much people would emotionally connect with the video, and it went super viral in a way that I hadn't predicted. And it got me, like, noticed and representation and everything a young actor ever wants."
Considering that comedy video eventually let to Bloom's show Crazy Ex-Girlfriend — for which she has won the Golden Globe Award for Best Actress – Television Series Musical or Comedy this year — her one-person sketch group idea paid off tremendously.