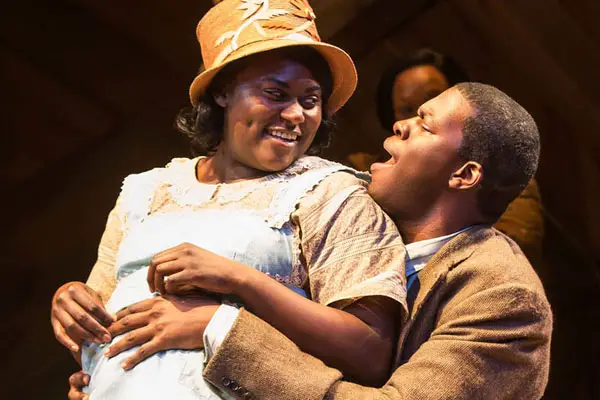 "Before Orange is the New Black, a year out of school, I was struggling to get a theater job." – Danielle Brooks
With so many characters on Netflix's hit series Orange is the New Black, it's easy to get some of the characters confused and mixed up. That is unless people are talking about Danielle Brooks' "Taystee," a fan favorite from the start. With so much success, all the women have been quite busy – including Brooks. Despite filming a popular show, she found some time to go back to her roots and be a part of The Color Purple on Broadway.
She recently told ETonline that she was just "grateful" to be included in the show, saying, "OK, let me break this down to you: I'm a theater girl, OK? Before Orange is the New Black, a year out of school, I was struggling to get a theater job. I auditioned for a lot of Broadway shows, and I heard no after no after no after no. Orange Is the New Black really helped my confidence to book Color Purple. Once I got it, I realized why God said, 'This is your Broadway debut,' because it is the first Broadway show that I ever saw, at 15 years old. So, for this thing to be full circle is the exact thing that was supposed to happen. I wasn't supposed to be in — and I'm not going to name all the other shows — I wasn't supposed to be in those shows. I was supposed to be in this and that's a much better story than I could have ever imagined."
Noting that she was getting told "no" left and right, Brooks reflected on the process and noted that she never felt like she wasn't meant to act on the stage, "I always wanted to do this. I never felt like, 'I got to quit. I can't do this anymore,' and like, 'this just is not working for me.' My thing was, 'OK, you're going to have to put in your time. This is not going to pop off for you until you're 40. You're going to have some story like Miss Viola Davis,' you know, because she also went to Juilliard. When you're first out of school and you're young — I was 21 when I graduated — like, what are people looking for? Do I need to change my hair? Do I need to lose weight? Do I need to gain weight? It's like what's my type, right? Then you realize you are your type, you are who you're supposed to be. Orange really helped me realize that, which has helped spark everything else."
Other than Orange giving Brooks her first big break, it also gave her the power to go out for more, "I think it's really a confidence thing for me," she said. "Like I was saying, I understood that I was enough as a person, as an artist, and that I have the talent. The fan base that we have gotten so quickly also was a reminder that you're on the right path and you're doing the right thing. I think that helped me to understand I can do this. You know what I mean? I have the talent. That's not in the bragging way. I have been given a gift; I got that part. Now, how do I not get in my own way?"
While she's confident, she admitted to being nervous during previews of the play and what she'll be like opening night, "My nerves are going to be wrecked. During the first preview, I literally had so much adrenaline running through my body. It felt like heaven on earth for me; that's what it felt like."
Danielle Brooks stars alongside Jennifer Hudson in The Color Purple, The Musical now through the end of March 2016.