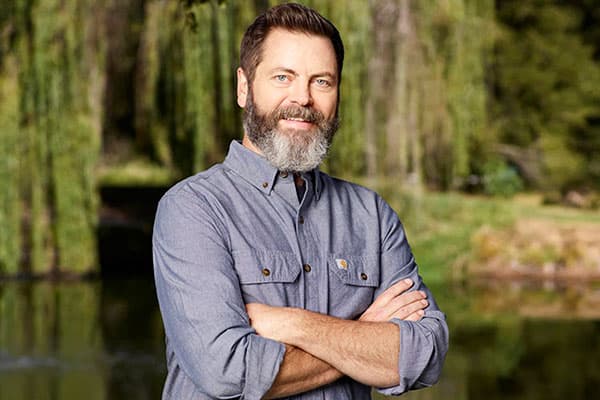 "In the theater, you prepare whatever's in the season. So I'm ready to slip on a banana peel and make you laugh, but I'm just as prepared to stab a protagonist and make you hate me in a deep drama." – Nick Offerman
For many actors, landing a fan-favorite role on a popular series can be career-changing and, should the series continue to do well in syndication, it offers career security. Actor Nick Offerman developed a fanbase playing Ron Swanson on Parks and Recreation, which ran for seven seasons. Since the series ended in 2015, Offerman has done a variety of projects including dramas, comedies, voice-acting, and even stand-up comedy. One of those varied projects is Devs, a sci-fi miniseries in which Offerman plays the villain. In an interview with On Milwaukee, Offerman spoke in depth about branching out from the role that made him famous.
Talking about his career since the end of Parks and Recreation, Offerman explains that he has had the freedom to chose the projects that he feels most passionate about:
Since Parks and Rec, I've been trying to choose projects that they make me feel. Specifically when I read a script, if it just feels like a good job – which I've been offered many of since Parks and Rec – it doesn't move me to say, 'OK, I want to commit three months or six months or five years of my life to this film or TV series; it just feels like a good job.' Which is such a weird place to be in, because 15 years ago, as a working actor, I would've given my left arm for such a job. But now that I've lived through the phenomenon of Parks and Rec, I'm unmoved by those because my rent is covered. I have all the socks I need.

My incentives now are specifically that I need a script to move me and make me feel like this is moving me, and/or all of us, forward in some way. That it's taking a swing at the ultimate job of the artist, which is to move humanity in some kind of medicinal way – to make us more tolerant or just to ease our pain with laughter. It's an ever shifting landscape.
Offerman adds that he could easily go for the easy money, but he prefers not to because it's unlikely they will all be winning projects. He says, "It'd be very easy to stay in Hollywood and crank out television comedies for another 30 years, but the batting average of those is much more difficult – especially coming off Parks and Rec."
Which brought Offerman to Devs, which appealed to his theater background and his desire to do something different than being Nick Swanson. He explains:
"I come from straight theater. That doesn't mean that I'm not interested in being funny – I obviously love performing comedy – but in the theater, you prepare whatever's in the season. So I'm ready to slip on a banana peel and make you laugh, but I'm just as prepared to stab a protagonist and make you hate me in a deep drama, and everything in between.

"So my work in Devs, I'm terribly excited for the audience to see a completely other side of me. Because that's what I do: I'm an actor. My dream for any job is for the audience to say, 'Oh, that's that guy from the other thing?!' To sort of fool people with appearance and manner, so that they don't see everything and say, 'Oh, that's Ron Swanson.'"