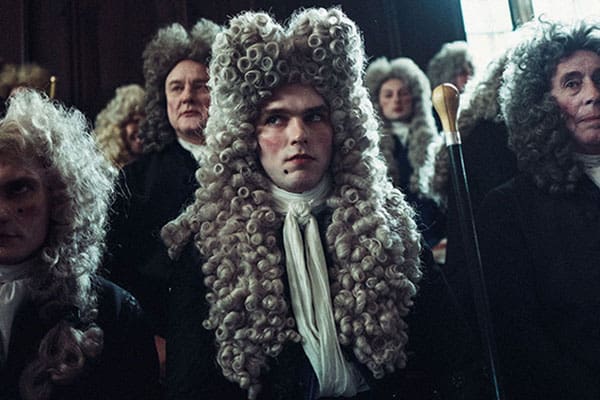 "I like to transform…. if possible, physically, and then that helps with the creation of the character to craft something different.

" – Nicholas Hoult
Though still not yet thirty years old, Nicholas Hoult has already built an impressive resume of performances in both blockbusters and independent films. His latest role is in acclaimed filmmaker Yorgos Lanthimos' film The Favourite, which just received 10 Academy Award nominations.
In a conversation with Gold Derby about his role as the 1st Earl of Oxford as two noblewomen compete for the favor of Queen Anne in the early 1700s, Hoult speaks about his supporting role, his appearance in Mad Max: Fury Road, and working with Lanthimos.
Regarding his supporting role in The Favourite opposite Olivia Coleman, Emma Stone, and Rachel Weisz, Hoult explains that what's paramount to him is finding the ride character, not the size of the role. He says, "For me as an actor, I never look at things like, 'I'm a lead or it's a small part' in terms of those sorts of things. I just look at if I want to play that character. I also go for varying tones and I like characters that you can disappear into."
Part of that "disappearing" act involves Hoult taking on roles that require him to alter his appearance, from playing Beast in the X-Men films to playing the War Boy Nux in Mad Max: Fury Road. For the latter role, Hoult remembers, "For Mad Max I lost weight, shaved my head and ran around in a pair of trousers. In this, I've got on giant wigs, full face of makeup and high heels. I like to transform like that if possible, physically, and then that helps with the creation of the character to craft something different."
The director of The Favourite, Yorgos Lanthimos, is know for his experimental films and for allowing his actors to make key decisions in their performances. Hoult explains, "Some of my favorite direction I've ever got from directors is, 'Do nothing.' It's amazing when people are confident in their scripts and the story and the characters. You can get away with doing very little as the actor, so I think sometimes when everything else isn't in the perfect shape, that's when you fall into the trap of trying to make it work for your performance, which then actually backfires."
Hoult gives one example of Lanthimos' unique directing style that allowed him and the other actors to really define their characters and actions as they see fit. He reveals, "I do remember one day doing one scene with Emma Stone and him coming up to us after the scene and saying, 'Guys, what kind of movie do you think is?' And we both were like, 'We don't know! We're trying to figure that out.' He was like, 'Have fun with it. Relax.' He's very freeing as a director. He lets you explore and then for me he would let me mess around for a few takes and then he'd be like, 'Okay, give me one with nothing.'"