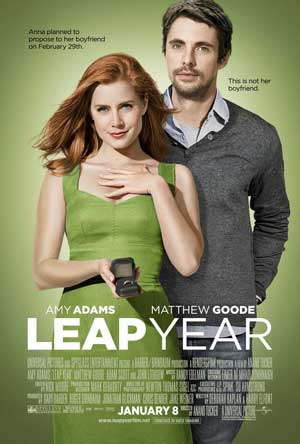 From movieline:
Had you met Amy Adams before shooting?

Before shooting, yes, because I had to get the job. She had a part in the casting so I went in and read. I wasn't the only chap; she's quite a big actress these days.
You've done several accents in your films. Was it tricky getting this one?

I have to say it really was because Anand wasn't quite sure where he wanted me to come from for a while then he made the decision that it would be Dingle and the County Kerry accent would be a good one. Luckily I had one of the best vocal coaches in the world, Gerry Grennell — he worked with Johnny Depp and other people — he's fabulous and he lives in Dublin so it was perfect. The first day Anand said, "Well, everyone in the crew seems to think you sound alright, it's just that I can't understand a bloody word." It was a bit thick, which is good in the west of Ireland, very, very strong accents in certain parts. You can barely understand a bloody word yourself. So it was definitely blood, sweat and tears [sighs]but it worked out.
Is there any sort of character you'd really like to play?
I've always wanted to play a detective in a thriller with another guy, I think. Two guys trying to find out something, that would be fun, private detectives or something. I'd really enjoy that … or not, as the case may be.
But you'd like to try.

Absolutely, as long as the script isn't a floating turd. "I'm going to do my dream! A dream of playing a detective! But the script is f***ing shit!" That would be hell.
Is there any actor whose career you'd like to emulate?

Yeah, sure, there's so many really. People like Billy Crudup and Sam Rockwell; they have very tremendous range, doing theater and cinema. There are heroes of mine, like Michael Caine … I loved Peter O'Toole. Maybe O'Toole and [Richard] Burton and those boys, but without the alcoholism.
So how was it working with Colin Firth and Tom Ford on 'A Single Man?'

I loved it; bearing in mind that the film was shot in 21 days, I wasn't there for terribly long. Colin was one of the reasons I wanted to do it; I knew he was going to smash his part out of the park, and Julianne [Moore] was involved. Great cast. And Tom's Tom. It was a bit intimidating to meet him at first, but after a couple of drinks in Claridges, we went through what his vision was, he's very, very passionate, and it was kind of a love poem to his own partner Richard. Why wouldn't I want to be involved with that? It's a great book and quite important story.