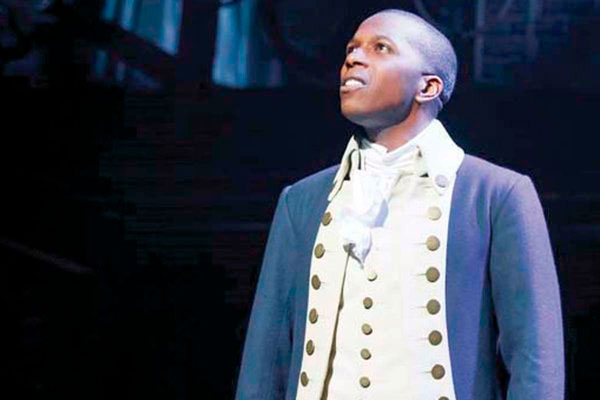 "There is a chance that this is the greatest role I might ever have in my life." – Leslie Odom, Jr.
While it's fair that Lin-Manuel Miranda receives the lion's share of the press for Hamilton — he is the writer and star behind the unprecedented Broadway musical — he is quick to share credit with the rest of the cast who helped him develop the show. One of those talents is Alexander Hamilton's on-stage rival Aaron Burr, who is portrayed by Leslie Odom, Jr. In an extensive profile in the New York Times, Odom talks about how he left a high-profile television role in order to play Burr and why it was so important to him to stay with the part from workshop to the Broadway stage.
Odom points out that he felt a connection to the Hamilton material immediately and was driven to be cast in the eventual musical. He explains, "You have to walk toward the things that make you alive. I didn't hide any of my cards. I would text Tommy [Kail, director of Hamilton] after every single reading: 'I love this part.' 'I want to stay with this part.'" He adds, "This is the show I was waiting for my whole life."
In fact, Odom points out that Hamilton sets the bar pretty high for his career — and he is absolutely fine with that. He says, "There is a chance that this is the greatest role I might ever have in my life. And that's O.K. If this is the greatest role I ever have in my life, thank God I got to do it." Most importantly, Odom saw Hamilton as a chance for minority actors to play captivating leading roles that are otherwise rare on Broadway. He says, "As a black actor, I can just tell you that I saw the potential to turn what is expected of us so often on its head. We're oftentimes asked to stop the show, or to make 'em laugh, but we're very rarely asked for vulnerability, very rarely asked for complication. And here was a role where he got to do 'Room Where It Happens' and he gets to do 'Dear Theodosia.' You just don't find parts like that. You don't."
One major issue with Odom's chances of making the final cast of Hamilton: he was contracted to play a major role in the series State of Affairs. Odom not only managed to convince NBC Entertainment Chairman Robert Greenblatt to let him out of his contract so he could do Hamilton, but Greenblatt also decided to invest in Hamilton (a move that has likely paid off handsomely for Greenblatt). While appearing in State of Affairs would've meant more money for less work for Odom, it certainly wasn't Hamilton (it was canceled after one season).
Another hurdle was his insistence that the actors who helped develop the show be included in profit-sharing of the musical's success. He reveals, "It almost broke our company, and almost broke our show, because we couldn't reconcile the beauty and love with the business. But we found our way through it."
A major concerns for fans of Hamilton — and the thousands who have yet to see it — is that the original cast will not stay with the show forever. In Odom's case his contract will expire in July and he does not know whether he will re-sign. He explains, "I don't have any control over the offers that are going to come to me, or not come to me. But I can't go backward, and so that's what's tricky. After Aaron Burr, it's got to be a good part, it's got to be an interesting part. Until I levitate, I have work to do. That's the day I'll retire. When I actually fly."