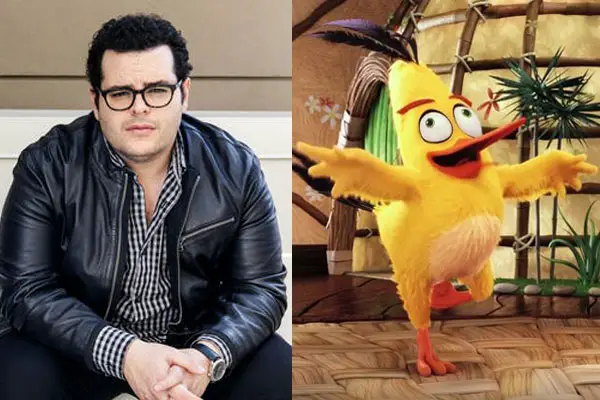 "Animation is so liberating because you're just left to your own voice and there's nothing else you can fall back on" – Josh Gad
Say the name Josh Gad and most people will instantly make the Frozen connection. As the voice of Olaf, the off-the wall and incredibly lovable snowman, Gad has gained a huge legion of fans and has been propelled to voiceover superstardom. Of course, Gad is a talented actor and musical star and had a sterling career long before Frozen happened, but there's no denying that the movie has opened many doors for him.
Right now, Gad can be heard in the Angry Birds movie, lending his voice to Chuck (the yellow bird), a fast-talking bird with issues. His behavior is manic, to say the least, and his movements generally match the speed of his vocals at all times. The movie itself is a whole lot of fun, especially for kids or for fans of the iconic game. Coming off the back of voicing such a popular character, it's a surprise that Gad decided to do another animated movie, and the actor admits that he did have reservations.
"To be honest, I was kind of hesitant to do another animated movie so soon after Frozen," he explains. "Can I make him distinct enough? Does he have a very different perspective on life [than Olaf]? Then the producer did this 20 minute pitch where he showed me all of the storyboards and all of the characters and, within a minute, I was sold. It was such a rich and hysterical world with this insane cast, and the most compelling thing was that Chuck was a 180 from Olaf. Olaf is very sweet and sort of naive, and Chuck is "say it first, think about it later." He thinks faster than he speaks, and he moves faster than he thinks, so there's this lovely rhythm to him that I thought would be really fun to play with and that's ultimately why I said yes."
Another attraction to the role for Gad is that the actor was able to put his comedic skills to use by improvising "a lot" of the lines. "When you put a cast like this together and assemble this group of people you're sort of paying for that. It would be weird to say to them "Everybody read the lines verbatim." So, I think it's a testament to the creative team. They were very collaborative throughout the process and, for me, so many of the moments are formed by that exploration and that playfulness."
"Animation is so liberating because you're just left to your own voice and there's nothing else you can fall back on. The sky is literally the limit and you're playing in a sandbox. I liken it to being five again and having G.I. Joes and playing with them and creating all these different voices. Animation is the closest thing to that pure innocence and playfulness that we have as children, and then kind of prevent ourselves from going all the way with [it] as we get older. So every time I'm in a booth, I get to get in touch with my five-year-old self again."
Via Moviefone