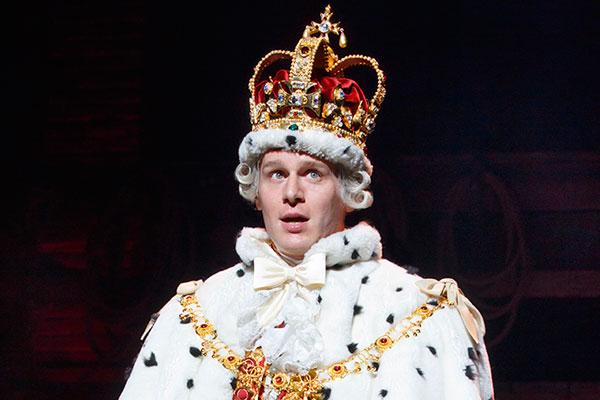 While Jonathan Groff is known for playing King George III in the original Broadway cast of Hamilton, he actually wasn't the first person to play the role — first, Joshua Henry played the role in the original workshop performances (Henry went on to play Aaron Burr in the Chicago production), and then Broadway favorite Brian d'Arcy James played the role in the off-Broadway run (and later on Broadway). Groff took the role on Broadway when James had to leave to star in Something Rotten! As a result, it's Groff whose voice is on the original cast album — and as it turns out, he had hardly any time to prepare.
Groff tells NPR:
It's this idea that [Lin-Manuel Miranda] had that King George would sing the equivalent of kind of a break-up song. … I had no real rehearsal. I rehearsed for about a day, and then went into the show. And so when I went into the show, I had no British accent. … It was like I was doing the high school play. I just had no sense of character. I just came out in the costume and sang the song and walked offstage.

And through the course of the first month it was kind of like a rehearsal process in front of the audience, which was really awesome and really interesting. But it was a testament to the material that even without any sort of sense of what I was doing in those initial weeks, you could come out there and the song just kills, because the song is so great.
Can you even imagine stepping into a role in one of the biggest Broadway hits of all time… with barely any time to prepare?