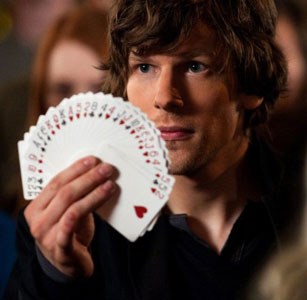 Jesse Eisenberg got his inspiration for acting from a clown—who just happened to be his mom.  She worked as a professional clown at children's parties when Eisenberg was growing up in Queens.
"My mom would get up so early to practice [her clowning]and it probably seemed to other people like she was doing something silly, but she taught me the dedication need to do something creative," he explained in an interview with The Guardian.
Eisenberg started acting as a way to become less shy.  "I was terrified of everything as a kid and that's partly why I started in plays, because you're operating then within a world with a set framework," he said.  In fact, the actor says he's "happiest rehearsing a play—I wish we didn't then have to show it to an audience but I understand an audience has to be there in order for the play to survive."
The actor admitted his main passion will always be writing, "because then you're still operating within a framework but also creating in.  But also as an adult you learn mechanisms to deal [with the world]and that helps."  Eisenberg doesn't foresee himself giving up acting completely though.  "I think you need to have life experiences to write and writing on its own is very isolating.  Acting forces me to socialize, which is good for me, I think."
Eisenberg's main wish is just to keep finding roles that speak to him.
"I've turned down a lot of plays and movies where that character [of neurotic nerd]is done badly," he said.  "When it's done well it can be great, but when it's done by someone who's just reusing the tropes, then I find that really offensive and I just…But I've thought about this a lot and those kinds of characters I've played have tended to have some kind of twist to them."