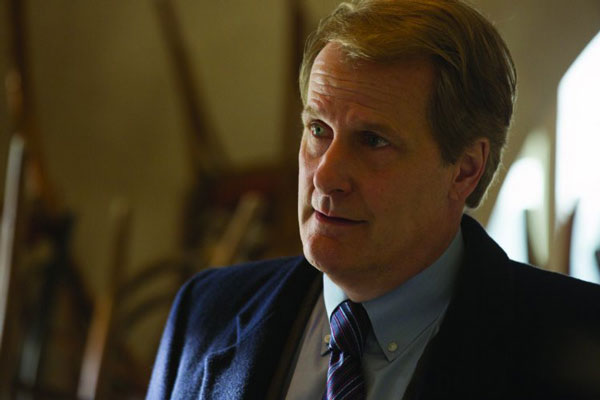 "You've got to get those lines so embedded inside you that it's second nature." – Jeff Daniels on working with Aaron Sorkin
Jeff Daniels is an acclaimed actor who already knows his way around an Aaron Sorkin script from his years on Sorkin's series The Newsroom. Because of that, Daniels was a natural choice to play John Sculley, the former Apple CEO in Steve Jobs, the Aaron Sorkin-penned biopic of the Apple company founder.
When asked by Vulture what it was like working with Michael Fassbender on a film with a Sorkin script, Daniels spoke at length about how important it was for him as an actor to step up his game:
It's similar to working with anyone on the A-list. You're working with people like Michael and Kate [Winslet] and then Meryl [Streep]. I can go on: Jim Carrey, comedically. When you work with people who are at the top of their game, you're in there exchanging punches. But I don't think I have had many scenes with Meryl in The Hours where we're doing what Michael and I do in Jobs. Either way, it's that back and forth, that ping-pong, and whether you're doing it in a calmer scene with somebody like Meryl, or timing things with Jim in front of the camera, or going toe-to-toe with Michael: it's all the same.

The trick with Jobs and with Sorkin, and Michael knew this: early on, you've got to get ahead of Aaron. You've got to get those lines so embedded inside you that it's second nature. Then you can dance on them, and interpret him and not just be someone who's trying not to forget your next line. You see that a lot in L.A.—people will memorize in the makeup chair and stroll in and sort of know it. I've done that on some movies where the workload isn't that much. But not on Sorkin. You can't, because you'll drown, and you'll be behind, and then the scene dies.

Michael and I both did that, and that's the fun of it: you save it for the camera. You might block it in rehearsal, but we never did it. It's like the bell of round one of a heavyweight fight in Madison Square Garden. It's just great. You get out of a take and I'll go, "I was too early on that one," and he'll go, "Yeah, I'll be later on that other thing too." OK, great. Then take three, and four, and bang, you're right back at it, but you're working together. It's thrilling, and great actors like Michael and others know how to do that. The cameras are secondary. We're doing the mechanics of film acting, but maybe 25 percent: the other 75 percent is trying to take his head off. I think audiences can feel the electricity in that particular scene. It's not put-on. Cameras pick things up like that. We showed up that day. It was a great day at work, it really was.