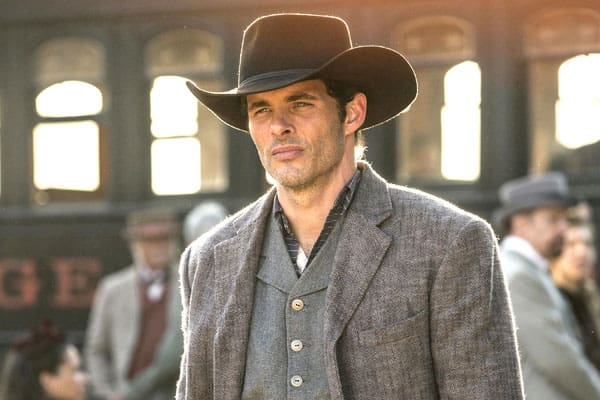 "You do have to condition yourself to embrace the insanity" – James Marsden on 'Westworld'
When an actor is cast in a popular TV show full of mysteries and revelations, he or she often isn't told how the character's arc will play out across one or more TV seasons. Actors sometimes learn of their characters' directions very late in the creative process… and sometimes even shortly before their scenes are shot.
Actor James Marsden, who appears as Teddy Flood on HBO's Westworld, has been in one of those situations as an actor. Marsden spoke to The Hollywood Reporter about how much he knew about his character's arc and significant changes across the second season of the series beforehand, and what it's like being on a "need-to-know" basis regarding a character he plays.
Marsden reveals:
Before we started shooting, I was informed of some of the arc and the changes that would be happening in the midseason, and the interesting and challenging journey that would be for me as an actor. I always thought that from the very beginning that this show has the potential to play several different characters and different levels of consciousness. You could wake up and be the professor or the sheriff. Even if there's a feeling of loss there or a feeling of tragedy, you could become "Terminator Teddy." There's some excitement there as an actor.

It's not just because you're now playing a lethal badass, but also because it's the challenge of playing that relationship [between Teddy and Dolores]struggling. They're growing and changing. She's different. He's different. He's awake, and they're choosing identities that aren't preprogrammed for them. There's a lot of soul-searching against this deadly backdrop of survival. It was exciting to learn that at some point in the season we would be at odds about how to proceed. 

In a broad, vague way, that information was given to me early on. But there are always surprises as you go along: how it goes down, when it goes down and where it all leads. A lot of that was left as a nice surprise as we went along and got the scripts. You do have to condition yourself to embrace the insanity and know you're in great hands with these writers and showrunners. If you need to know something, they'll tell you.