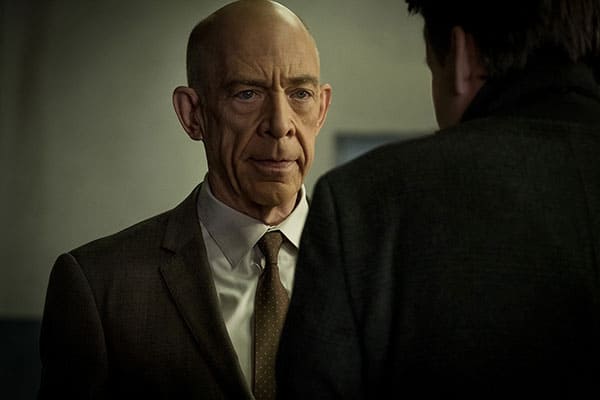 "Actors tend to be one way or the other, working from the inside out, or the outside in. I tend to be an inside out kinda guy…" – J.K. Simmons
Academy Award winner J.K. Simmons seems to be the type of actor that everyone thinks is among the best in the business — and he has performances like his dual role in just cancelled Starz TV series, Counterpart to back up that perception. However, in his interview with Vulture about the series, Simmons talks about the challenges he faces as an actor and how, even after all these years on screen, there are still questions that he can't answer.
Simmons says, "It's always tricky for actors to play somebody who's acting," and specifically talks about the difficultly of playing two very different versions of the same character, adding, "Ultimately there are subtle — I hope — detectable differences in physicality. But really, I didn't think of it that way, with rare exception. Actors tend to be one way or the other, working from the inside out, or the outside in. I tend to be an inside out kinda guy, so to me, the differences between the two characters are psychological, emotional. And that manifested itself physically. People have told me audiences have been able to differentiate, to know which character they're looking at in the beginning of a scene, even if it hasn't been made explicit."
However, at the same time Simmons isn't sure if that's accurate, continuing, "I feel like I'm contradicting myself! I think you know what I mean? I'm very bad at talking about process. There's a reason I'll never be a director or an acting teacher."
In addition to his superb on-screen roles, Simmons has performed as a voice actor in films like Kung Fu Panda 3 and Zootopia and, for, over twenty years as the voice of the Yellow M&M in M&M's commercials. When discussing voice acting work, Simmons notes that in some aspects it's more difficult that acting on camera. He explains:
It is more challenging in a way. A fellow of mine, Billy West — with whom I've been doing the M&M characters for many years now — I think is the first guy I heard use the phrase 'theater of the mind.' When you're only doing the voice, you have a specific visual image of who you are or who you're dealing with, and I find it helpful to just close my eyes and visualize and play. Another thing that I've found, I'm more -willing and I find it easier to make a wide, wide range of choices as a voice actor. When you're being directed — 'louder, faster, funnier, meaner,' whatever — it's much, much easier to play the extremes and trust and leave it up to the directors, producer, editor, to make the final decisions.
More: J.K. Simmons: "Unless your name is Clooney or Pitt or Hanks, I think it's hard to feel completely like you're established"