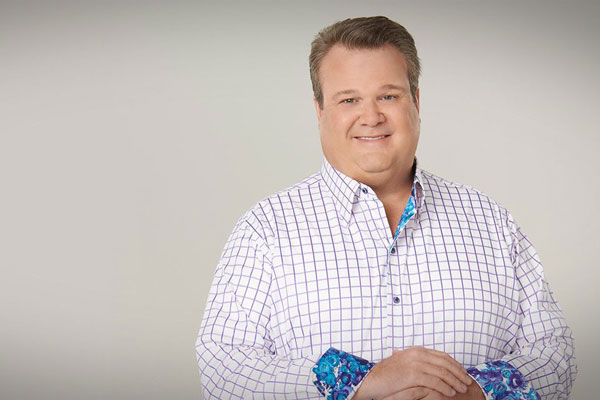 "I freaking hated it when I would tell somebody I was an actor and they would say, "Oh, what restaurant do you work at?" – Eric Stonestreet
Eric Stonestreet has been starring in sitcom Modern Family for the last seven years. As one half of a gay couple,with Jesse Tyler Ferguson as his partner, Stonestreet's performance has won him two Emmys and masses of fans. Stonestreet is larger than life, cuddly, and a very flamboyant on the show, and now hes lending his voice to a similar character, with one major difference.
The Secret Life of Pets, from Illumination Entertainment (the company that brought us Minions), centers on a pampered terrier named Max, whose life is turned upside down with the arrival of a new, giant hound, named Duke. Stonestreet provides the voice of Duke, who is very much like a puppy in spite of his enormous size. The film is fast-paced, packed full of great gags, and just a whole load of fun. For Stonestreet, doing voiceover work allowed him to tap into his imagination once more.
"I probably became an actor because of my vivid imagination and doing voice-over really sort of takes me back to that," he explains. "When it says, "Duke is falling out of a tube" or "Duke is running behind this," it's just words on a paper, so I have to hear the noises and try to put a performance in there that matches the visual. That aspect of it is challenging. Not hard, but challenging and freeing."
But Stonestreet didn't set out to become an actor at all. After being raised in Kansas City, with five prisons located in the vicinity, Stonestreet was fascinated by them and decided he would like to become a prison guard.
"[In college] I took a sociology class and I got an A in it. Then I found out you could get an emphasis in criminal justice. I wanted to be an administrator. Then my high school girlfriend and I had split up and I was rolling in my sadness. I got dared to audition for a play by my best friend, Paul. He got cast in Hamlet and I got cast in Prelude to a Kiss, and that changed everything."
While Stonestreet is doing well now, having a steady role on a TV show was a distant dream when he first started in the acting profession. Like it or not, Stonestreet is recognizable as a larger actor, and he points out that the industry is still just as prejudiced toward heavyset people as it always has been.
"It's the one group of people you can still just kind of make fun of. I would say for sure I've gotten fewer parts because I was heavyset. I always get emotional when I think about the show getting picked up for the back nine [episodes]. After 12 years of not having a job for anything longer than 8 days, it was that moment that I realized I have sustained employment on a great freaking TV show. [Tears up.] Sorry, when I start thinking about that stuff it really gets to me, because I know what that struggle's like for so many actors. You're just discounted. I freaking hated it when I would tell somebody I was an actor and they would say, "Oh, what restaurant do you work at?"
Via LA Times