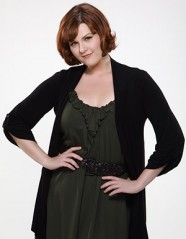 From Movieline:
You have the most sitcom experience of all the leads in Eastwick. Did you have to audition? Would you ever want to carry your own sitcom again?

I didn't audition for any of the leads but [executive producers]Maggie Friedman and David Nutter offered me the part of Penny. I read the script and liked it and thought it was interesting and I think as an actor, I always try to do stuff that I've never done before. I'd never done anything with a supernatural part before. Except for my part in The Ring, but I didn't have to do anything supernatural. Maggie actually called me up and said, "I promise you that you're going to have so much to do. I have this great idea for Penny." She really talked me into it.
But carrying my own show again is exactly what I want to do. I loved my experience on Less Than Perfect so much and I would like something like that again. I love half hour — I feel like it's where my heart and soul is somehow. It's the perfect combination of fun and light and extremely challenging. And also I have the elements of dealing with a live audience.
But it's really what I want to do. The first show I ever did was Grand when I was eleven and that was a half hour. And I loved it and it's always where I want to go back to.
You've guest-starred on both of Chuck Lorre's series, Two and a Half Men and Big Bang.

I loved those experiences so much. I love Chuck Lorre. I did a little guest spot on Roseanne when I was fourteen. It was a whirlwind experience in a week and I think with Chuck, I had auditioned for him for a couple of other shows of his over the years. And not gotten anything but had gotten really close – down to the final two girls a couple times. I think he appreciated that I came in and did a good job and I was someone he could take to the network to say, "I like this girl" and they'd say "Ick, we don't." But he needed someone to bring.
So, after Less Than Perfect was canceled, he called me personally and said "I want to talk to you about doing something on Two and a Half Men, will you come in?" And I said, "Absolutely!" and went into his office where he pitched me the idea for the character, the part of the pregnant daughter. And he was like, "Would you play pregnant?" And I said, "Oh my god, yes!" How fun is that? So we shot that episode and at the end, he said, "Do you want to come back and do another one?" And I said, "Yes!" So we shot another one after she had the baby and she is kind of a little bit of a trashier character which is really fun for me.
Then I got a call to do an arc on Big Bang. What's funny is that normally I'd need to see a script and know what I was doing but with Chuck Lorre, I don't need to see anything because I know how good he is. And I just trust that it's going to be good, and it always is. Wherever he wants me to go, I will follow. I feel so honored that he calls me in to work for him.
Would you ever consider developing your own sitcom to star in?

Yeah, definitely. I would love to do that. It would really require finding – I think in the sitcom world, the writer is sort of the sun of that universe. It would have to be with the perfect writer. Because if you have a creator with a strong vision and a funny sensibility and someone who is willing to fight for what want it to be, then it's really a simple process. Chuck Lorre is one of them. He is really a genius and I think it would be such an honor. I think maybe after Eastwick, returning to sitcom would be exciting for me.
So you've done TV, film and guest arcs. You've said that you really love sitcoms, but when does acting feel like the most work for you?

Honestly, acting is the most work when you're unemployed. For me, the actual acting part is never hard. It's the politics and basically everything around the acting that is difficult. Sometimes it's dealing with different personalities that maybe you don't click with, or playing the game, or going to parties. I don't know, that's all stuff that is really hard for me. The stuff that's easy is from the time they yell action to cut. That's what I really love. It's the business side that's hard for me.
Does that change once you've carried your own sitcom though?

I don't know. I have to say it's been an interesting experience playing a supporting role again, because after doing Less Than Perfect when all of the responsibilities were on my shoulders in the way, traveling and doing press on weekends, it was a big responsibility. It's been a totally different kind of experience doing Eastwick because until the show aired, no one really knew I was on it. I'm kind of only required to show up and act, which I love, but at the same time, I must say that I really love feeling like a part of something and feeling like it's a team effort.