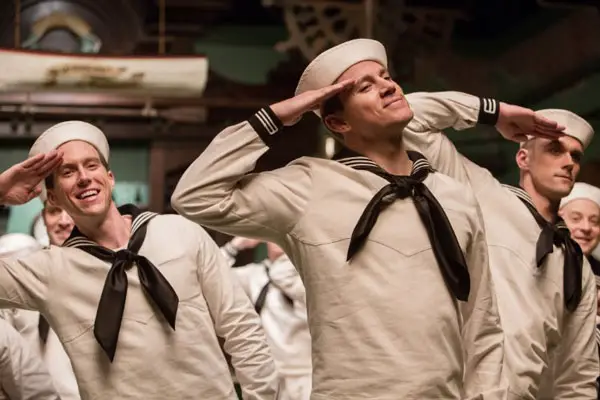 By now everyone and their mother knows Channing Tatum can move. From one of his first roles in Step Up, his dance moves in the Magic Mike movies and now, his latest role in the Coen Brothers' Hail, Caesar! where he's tapping away in a sailor suit. The actor sat down with Vulture to talk about stepping into new dancing shoes as well as finally getting to work with the Coens.
Tatum's career has been a wild one. He's shown he can crossover in terms of genre, but scoring a movie with the Coens was a dream come true. "I've been beating on the Coens' door for years, man. One of the turning points in my whole career was my audition for No Country for Old Men. They wanted to see everybody — no-names, which I was, and name-names. I was almost 15 years too young for the part [that eventually went to Josh Brolin], but I just wanted to get in the room with them. I know I'm too young. Just get me in the room — I know that when I leave, I'll be a better actor," he said. "It was when I realized that I should just try to be around very talented and smart people, and not worry about what the job is, even though I was never going to get it. And then cut to this. It was just so crazy for me to finally be on set with them."
He also noted what it was like when he finally got approached by them, via email. "I can't exactly remember what the email was. Joel and Ethan — we have the same agent — were like, 'Look, here's a part, which we hope you want, because no one else can do it.' Knowing what it turned into, it's hard to believe that was the truth. I know there are a lot of other people that could have crushed this thing. Because one, I don't sing, and two, I don't tap-dance. So all of that was completely new to me."
Once the role was locked down and he had the part, Tatum then had to prepare – which he did for a few months. Looking back on the process he noted, "It's the most I've ever prepped for a six-minute section in a movie. We went over Christmas and New Year's [in 2014], so I had all that time to let it gestate. I let it sink into my bones over the holiday break. When I'm nervous about something, I drill it to a point that is probably unhealthy, but as long as it works even halfway, I'm happy at the end of the tortuous day. "
"In the script," he went on to say, "it was like five sentences long — a dance number on a battleship, just a knee-slide, and then cut. And that became a six-minute song with tap-dancing. Chris Gattelli was my tap teacher and choreographer, and without him I never, ever, ever would've been able to do this, not in a million years. He believed in me until the day I was about to crack. I didn't think tap-dancing was going to be easy, but I also had no idea how hard it was actually going to be."
Tatum stars alongside Jonah Hill, George Clooney and Scarlett Johansson in Hail, Caesar!, out today.