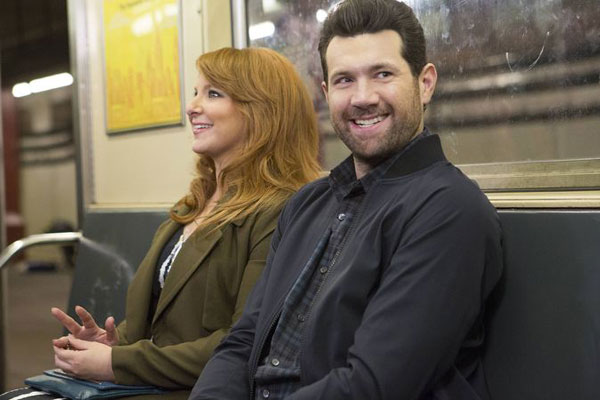 Most people know Billy Eichner from his show Billy on the Street — an unscripted comedy game show that grew out of his off-Broadway show Creation Nation: A Live Talk Show — as well as his roles on Parks and Recreation and Difficult People. However, Eichner actually was a child actor who unsuccessfully pursued a career in musical theater before he found his talent for comedy. While being interviewed on NPR's Fresh Air, Eichner talked about his unsuccessful past in acting.
Eichner reveals that he turned to comedy because his initial forays into acting proved unsuccessful. He explains:
I started out as a very traditional actor. The first thing I ever did in terms of performance was singing. When I opened my mouth to sing as a kid, I kind of randomly had a really good singing voice. And so that put me on the actor track and the musicals track. I went to Northwestern. I was a theater major there, and then when I got to New York after college, I was doing the typical struggling actor thing. And people had told me that I was funny. I would adlib in plays even if I wasn't supposed to. So I thought I should maybe try to focus on comedy. And I went to the Upright Citizens Brigade, the famous improv school in New York, and I took improv classes. And, ultimately, I ended up writing the show… Creation Nation. And that became the first thing I did which put me on the map at least in New York, in terms of the industry getting to know me and press and things like that.
While Eichner was a child actor, he struggled getting roles as teenager — partially because he didn't look like a teenager. He explains, "I did industrials, which are almost like after-school specials. What else did I do? I didn't do much. I really wanted to be on Broadway as a singer, but I was already 6 feet tall. I was really fat as a kid – I just was – and there weren't many roles for me. I remember I auditioned for – it's funny. I just saw the Broadway revival of Falsettos, which is beautiful and maybe my favorite musical of all time – certainly one of them. And one of the leads in that is a 13-year-old Jewish kid. It's about him getting bar mitzvahed… I auditioned for the original production when I was 12 or 13. And James Lapine, the director, after I sang, went out into the waiting room and told my dad that I was really good, but I was already taller than the actor playing my stepfather even at that age."
Unfortunately for Eichner, this trend carried on. He continues, "So this kept being a running theme. I was too tall. I was too this. I was too that. And then I never fully committed to the child actor thing. I also liked being a regular kid and being a student. I ended up deciding not to go to the performing arts high school and instead going to Stuyvesant, which is a specialized math and science high school, of all things. So I liked being a student, and I got back into theater in a major way in college."
Obviously, comedy helped Eichner find success — so if you don't succeed in acting with one approach, why not try another?