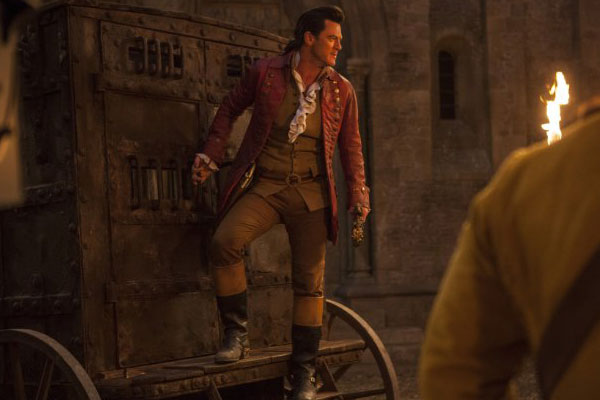 Beauty and the Beast is currently taking the global box office by storm, becoming the biggest March opening of all time. The movie will easily gross over $1 billion as the live-action Disney adaptation of one of its best-loved animated movies, waltzes into life. Starring Emma Watson as Belle, Beauty and the Beast reviews have been mixed. While Watson's vocals might not be the most outstanding, the movie itself seems to be cementing itself firmly into the hearts of musical and Disney lovers alike.
In part, that is undoubtedly because of Luke Evans and Josh Gad. As Gaston and LeFou, respectively, the pair steal every scene they are in, and their theater pedigree is clear. Evans in particular, shows off stunning vocals, and plays the dastardly villain with so much schmaltz that it's impossible not to love his dim witted yet calculating ways.
What fans might not be aware of, is that Evans started out in theater, and didn't land his first film role until he hit 30. Since then, he's concentrated on acting in straight roles only, which is a shame, since now we've heard him in Beauty and the Beast we want to hear him in every musical going. But Evans only got the role because of his previous work on stage, in particular, his role in Piaf, at London's Donmar Warehouse.
"It was actually a casting director who was casting out of London and she knew that I sang," Evans tells THR. "She had seen me in a musical I did called Piaf in London in the Donmar Warehouse and so she was very aware, many, many years ago that I could sing. She knew that I hadn't sung since I started doing movies, and then this came up. She waited for the right time to bring me in to meet [director]Bill [Condon]. It all clicked, it all fell into place.
There has been offers in the last few years, but they didn't seem to be the right job and so I didn't pursue them. It took a couple of goes by my agents to get me in for Beauty and the Beast because I hadn't really watched the animated movie for a very long time and I had forgotten how great the journey of Gaston is. You see all the colors of the character, from the loveable rogue to the buffoon to the jealous, revengeful sort of monster that he becomes by the end of the movie. So, it actually took me sitting down and watching the cartoon with my godchildren which made me realize how brilliant the role was and that I totally should do it."
Evans doesn't make light of the amazing opportunity he was granted, either. He knows Gaston is a wonderful role, and is grateful he landed the chance to portray him on screen:
"If there's one thing I'm comfortable doing in this life it's singing. It's like therapy to me. I'll sing to anybody at any time, at anything, I will just sing. I love to sing. It was a joy for me to finally get to do it on the big screen in such a wonderful vehicle as Beauty and the Beast, playing this character with those songs. It was magic."
More singing will be entirely welcome, at any time. Evans, of course, gets to duet on one of the movie's more upbeat numbers, with Gad. "Gaston," written by Disney stalwarts Alan Menken and Howard Ashman, has new life breathed into it in the live-action version, with highly stylized choreography and strong vocal performances from both men:
"It's great. It was very difficult because there's so much that goes on in the animated version. I think we figured out that there were only about five people in the tavern in the animation — you'd think there's way more. But obviously in the film there's about 50 to 60 people in that tavern. It was just so much fun to rehearse it and get to spend weeks and weeks creating and building on the choreography and the special effects. Then going into a studio and recording the track, adding a little flare with my own vocal ability to the song and adding new notes. When I watched it in the premiere was the first time the audience clapped. It was a lovely moment."