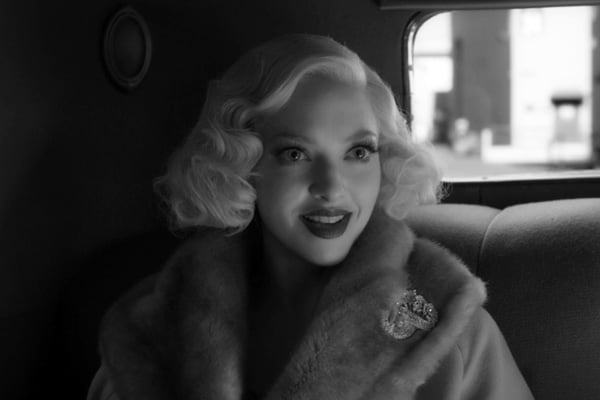 "I love when someone's like, 'I don't think you're right for it,' and then I can reply, 'I'm right for it. You will see.'" – Amanda Seyfried
Actress Amanda Seyfried received the first Academy Award nomination in her career for her role as actress Marion Davies in the Netflix film Mank. It's something of a surprise that Seyfried, who began acting at an early age, hadn't been considered for other major awards for her previous performances — but then again, Davies never won a major award, so Seyfried has one up on her there!
Seyfried spoke to Netflix Queue about the career that has led her to Mank, and explains that she has faced many challenges herself on her way to that Oscar nomination.
Seyfried—who has starred in big-screen musicals like Mamma Mia! and Les Misérables—explains that she initially got interested in performing because of her passion for singing. She says, "I wanted to sing, first of all. Singing was a big goal for me. I had an Annie audition. Annie came back up in revival when I was 10 — so '96. From then on, I wanted to be a singer. I loved the way it made me feel. I loved listening to singers and watching concerts. That turned into: I want to be onstage. I want to perform in every way. I started taking acting lessons more seriously and dropping the singing. I guess it was just having a lot of energy, needing to have an outlet, and knowing that I loved entertaining. Then things happen: You get a role and you're like, O.K., now I'm here. Then you don't get a role, and you're like, O.K., now I'm going to go to Fordham. Then you get Mean Girls and you're like, O.K., I'm going to drop out of Fordham, and I'm going to go to Toronto. It was just step-by-step scary, but exciting, really."
Unsurprisingly, her fast start didn't prevent her from some doom-and-gloom thinking about her career. She recalls, "I think it was when I was 18. I had just gotten to L.A., and I got Big Love and Veronica Mars in the same month. I was like, Wow, I've got two jobs. For the next six months, I'll be working. Hopefully I'll get a job after that, but right now this is my career and I can fully engage in this Hollywood thing. That felt really safe — for six months. Every time I would finish a movie, I thought, Well, this is it. I might never work again. I still feel that way sometimes."
Seyfried points to her varied career in film which has spanned many genres as something she has worked hard to focus on. She says, "The diversity of my roles has been very intentional. Lovelace and Chloe, I did those movies for a lot of reasons, but I needed to break out of whatever people thought of me, especially in the industry. To be respected in the industry is, of course, important. I've always wanted that. I've always wanted people to trust that I could perform, that I could play different roles. I just wanted to go from one extreme to the next. I'd have to fight for a lot of roles, and that had nothing to do with keeping my career diverse, it was just: I need to play Cosette in this movie."
Les Misérables is an example of a film in which Seyfriend had to fight in order to get the part. She reveals, "I love when someone's like, 'I don't think you're right for it,' and then I can reply, 'I'm right for it. You will see.' I don't know how many times I auditioned for Les Mis. I was told no before I even auditioned and I was like, 'I'm going to make you want to choose me by the end of this.' It worked. Perseverance really worked. I love auditioning. I love reading. I love the competition."