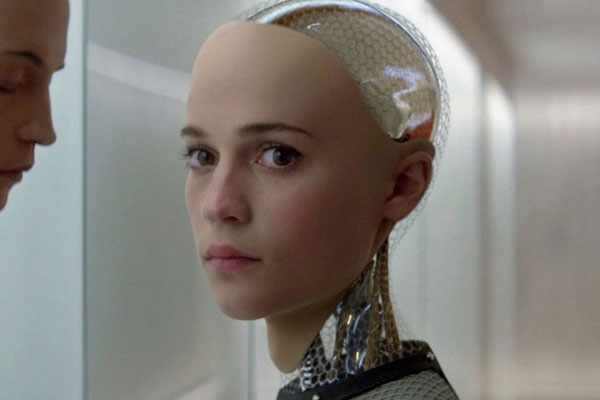 Alicia Vikander had seven feature films released in the U.S. last year. Each one as different as the last; the roles she plays are diverse, exciting and demanding. Case in point: Ex-Machina and The Danish Girl. Ex-Machina deals with the problems surrounding the use of Artificial Intelligence, while in The Danish Girl, Vikander plays the wife of Eddie Redmayne's  character who becomes the first person to undergo gender reassignment surgery.
Both roles have earned Vikander a string of accolades; in fact, she was nominated for Golden Globes for both Ex-Machina (Supporting Actress) and The Danish Girl (Best Actress), and has also earned an Oscar nod for Best Supporting Actress for The Danish Girl, too. Vikander's star is quickly on the rise, yet she can still recall a time she was in awe of it all.
"When I came here to L.A. for the first time, it was for a screen test," she tells the Los Angeles Times. "I called my mom, I was like, 'I'm at Universal, but not at the fun park. I got to go in on the other side, where the studio is.'"
Despite her success and huge workload, Vikander isn't tired. In fact, if anything, she relishes moving from one project to the next, while still keeping fond memories of each film that she makes.
"You [get immersed in] a film and of course you think that that is it," she says. "And then you go away and you read a new script and you have a new crush. And then suddenly that's the most interesting thing — it feels like a new love. And I have dear memories of all of them."
Of course, such a wide and varied workload also means Vikander gets the opportunity to work with various different directors, which can only serve to strengthen her career as each one offers advice and a new insight into her ways of working and portraying characters.
Vikander notes that Alex Garland (Ex-Machina) gave "a very good note of something he saw early on — never to play [the sexuality], but always just to keep her doe-like, like a newborn, which she is. Then it becomes a power game. You want to care for her. Then you have the entire audience with her."