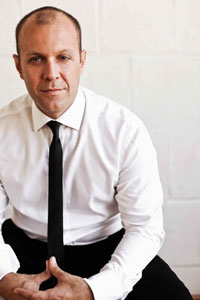 Written by Douglas Taurel
Confidence can feel like such an elusive feeling: "I want to be and feel more confident," "If only I could have more confidence I would be able to do x and y," or "If I could just stop feeling so scared I would try x and y." Feeling confident is so critical for us as actors, for every aspect of our careers, but especially during agent interviews and auditions.
Your physical posture determines how you feel, how you talk to yourself (either positively or negatively), but more importantly, how the world relates to you and ultimately, how your life unfolds.
When we stand upright, shoulders back and with our heads held up high—what psychologists call a power pose—we release more testosterone (true for both men and women). Testosterone is the hormone that regulates dominance and assertiveness. When we have our heads down and our shoulders rounded such as in a hunch position, we release more cortisol, the stress hormone.
Amy Cuddy, a social psychologist and associate professor at Harvard Business School, performed an experiment where subjects adopted either a high or low power pose in a real-world situation applying for a job. Subjects who adopted high power poses before the interview not only were chosen as viable candidates, but were also evaluated much more positively overall. Low power posers were judged as not suitable.
Even more fascinating was that people who put themselves in power poses for two minutes had an increase in testosterone of 20 percent, a decrease in cortisol of 20 percent and 86 percent of the group was more likely to take risks. The group that took a low power pose for two minutes showed a decrease in testosterone of 10 percent and an increase in cortisol of 15 percent, and only 60 percent of the group were likely to take risks.
Based on this, I offer two tips that will increase your confidence:
1. When you go to a meeting or an audition, don't check your cell phone or iPad. Notice the body position you are in when you're checking your devices: rounded shoulders, bent head. You are releasing more cortisol and placing yourself in a weaker position!
2. Go into the meeting with your chin high and your chest up as if you had a cape on like a super hero, and with a genuine smile. Hold this position for at least two minutes before you go in. Notice not only how confident you begin to feel but also how others respond to you. Put yourself in a stronger position!
"The body changes the mind, the mind changes behavior, behavior changes outcomes." —Amy Cuddy
An accomplished actor and producer, Douglas Taurel has starred in television roles on Nurse Jackie, Damages, NYC 22, The Americans and Person of Interest. He is active in the independent film scene, where he currently has lead roles in two independent films that will soon be screened in film festivals across the country, "Waystation to the Stars" and "La Croix Rising."
Follow him on Twitter: @DouglasTaurel