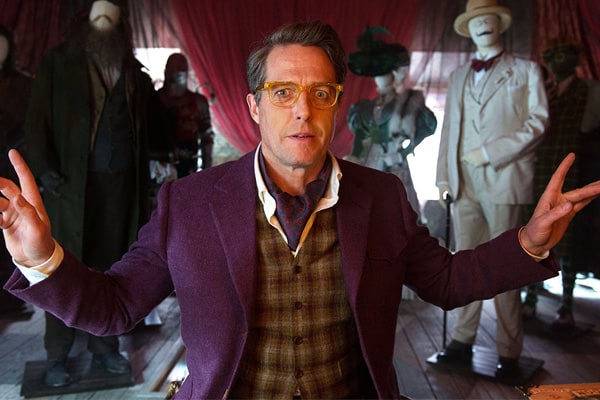 "Hiding behind the mask of someone else seems to loosen me up and make me better. And in the end, one thing I have discovered over the years is all you really want in film acting is to be loose." – Hugh Grant
Career revivals for actors are usually very exciting from an audience standpoint because they have a chance to see an actor that they had respected for his or her previous work reveal more of their craft. Such is the case of Hugh Grant, who has experienced a major resurgence in popularity after spending much of his career portraying the lead in romantic comedies.
In an interview with the Los Angeles Times about his role in the HBO drama miniseries The Undoing, Grant spoke about how he re-established his career by focusing on the character actor work that he had done early in his career and why he feels comedy is more challenging for an actor than drama.
Grant credits Oscar-nominated director Stephen Frears for helping him break out of the "romantic lead" typecasting that he had experienced for much of his career. He explains:
"I have to be very thankful for Stephen Frears, who, out of the blue, asked me to be in Florence Foster Jenkins with Meryl Streep [and later cast him in A Very English Scandal]. That gave me a new kickstart. I've returned really to where I began, as a character actor. I just did silly voices and imitations for sketch shows and commercials back in the '80s. That's what I was good at. I never for a moment thought I was someone who would be a leading man, especially in romantic comedies. That was never a genre I had any particular affection for, but that's where I ended up. I'm not ungrateful. I loved the money, of course, and I'm proud of a lot of those films. But if someone said to me, 'Do you have any talent as an actor?' I'd say, 'Well, only in regard to character acting.'"
Regarding his affinity for character acting and how his career progressed, he points out that he tried to bring elements of his early character work into his leading roles. He continues, "I did try. Whatever it might be, Four Weddings and a Funeral or Two Weeks Notice, my process was always the same as it is now. I do a ridiculous amount of homework and granular analysis of every moment in the film. I build up these vast biographies of the character. Hiding behind the mask of someone else seems to loosen me up and make me better. And in the end, one thing I have discovered over the years is all you really want in film acting is to be loose."
One of Grant's recent non-romantic comedy roles was portraying aging stage actor Phoenix Buchanan in Paddington 2, a role that Grant remembers fondly. He says, "I'm delighted it looks like fun but it's never fun. All of that old cliché about 'Drama is easy, comedy's difficult' … But it was great fun for me to use some of my characters I'd met in my early career working in provincial theater in England."
On why he finds comedy harder than drama, Grant says comedic roles are "more thankless" and less appreciated by audiences. He argues, "Harder in the sense that they're more thankless, because audiences throughout the history of entertainment have always been naturally and inextricably drawn towards the baddie. They just love the baddie and they slightly yawn at the goody. No one wants to play Romeo, for Christ's sake, they want to play Tybalt or Mercutio. To be the good guy and not a yawn or a bore is very difficult."
However, Grant admits that he never expected to have a long career in acting, though he reflects back on his early days as an actor and recalls, "I was drifting, like most people do when they come out of university. I thought acting would last about a year. Here we are, 35 years [later]. There was a sort of excursion in those early years where I was also writing my own material with a couple of writing partners. Those were very happy days. I remember feeling the most satisfied and like a human being at the end of those days, more than any day on any film set ever. You know this: Any kind of primary creativity where you actually turn a blank page into something hits a very profound spot and one that is deeply satisfying."