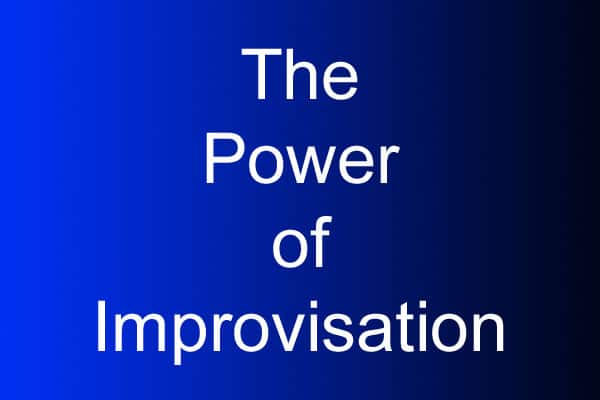 Robert De Niro made 'You talkin' to me' the calling card of tough guys everywhere. Julia Roberts' laugh was genuine when Richard Gere slammed the necklace box closed. "You're gonna need a bigger boat" is one of the most quotable lines in film history.
All of these lines and moments are improvised, the result of actors being in the moment, completely in character, reacting naturally.  But it is not only individual lines or even speeches that can be improvised, whole films are too. Mike Leigh is a Palm d'Or winning director famed for his improvisational approach while Joe Swanberg has built a 13-year-career on improvisation, culminating in a series on Netflix.
Improvised filmmaking is a captivating and immersive filmmaking process requiring actors that are sharp and quick on their feet. We found such actors for our own improvised feature film, Friends, Foes & Fireworks, taking it to the extreme and filming the whole thing in a single night … on New Year's Eve no less. We fell in love with the improvisation process along the way so repeated it all again, just wrapping production on another improvised feature called In Corpore, filmed in Melbourne, New York, Berlin, and Malta.
And here is why there is so much power in tapping into improvisation and why we feel every actor should try improv – be it theatre, games, or film.
You get to know your character like a second skin. You are not memorizing lines, you are absorbing the history of the character, developing their background, walking in their shoes until responses and reactions become completely naturalistic. The way we approach improvisation is by developing an outline of each scene along with character histories and relationship dynamics. We will then spend a lot of time with actors simply discussing backgrounds, asking a series of questions about their relationships, their history, encouraging each actor to take the character and make them their own.
Soon actors are building their own history, meeting up with their fellow cast and spending time developing relationships, then coming back to us and letting us know what works and what doesn't for their character. It is collaborative creation.
And we recreate history. We film scenes from the past that the characters have shared to give them common ground. Once such rehearsal scene in Friends, Foes & Fireworks was a dinner party that went horribly wrong and instigated tension in the group. Our actors improvised for 45 minutes while we captured it on camera, the party degenerating into tears. It was emotional and it was powerful. Then, the two characters at the heart of the tension, Fiona and Zoe, were the first to meet as Friends, Foes & Fireworks begins. The awkwardness in the scene is palpable, a direct extension from the rehearsal; from the shared past experience these two characters just went through.
Reviews for the film have mentioned it is like eavesdropping on real conversations between friends. We feel this is down to the immersive approach of improvisation. One of the sins of mediocre actors, we feel, is waiting for your next line. Failing to be "in the moment."  But with improvisation you have no choice but to listen and react to situations and conversations around you. You are not performing. You are being human.
The freedom of this approach is liberating and can be surprising. Though we work with outlines of each scene and have an idea where we want to go, what is said and how we will get there is a complete unknown. As filmmakers this keeps us on our toes and as actors it means you are constantly engaged – there is no going through the motions because every take is different, every conversation is different. Sometimes, things will go in a direction nobody expected, like a climatic scene in In Corpore between two lovers that led to physicality. You have no choice but to go with the flow, go where the character takes you. It is just like you are living your life but captured on camera.
Of course, this freedom can be daunting, like jumping into the ocean without a lifejacket. We did have one actor in Friends, Foes & Fireworks pull out citing that he didn't feel the style would suit him. And that is understandable – we come from so much structure in film: hit your mark, say your line like this, don't tilt your head so much, etc. that releasing all shackles and letting actors do their own thing and carry their own conversations is a big ask. And self-doubt and questions of "can I keep up?" will arise.
Our advice?
Try it. Join an improvisation class, do some improv theatre games, gather a group of friends and create an improvised scene or short. Give yourself permission to experiment, have some fun, roll with the flow and see where the moment takes you.
We did. And we don't want to go back to filming with a script again.
You can watch Friends, Foes & Fireworks here.
Written By Ivan Malekin