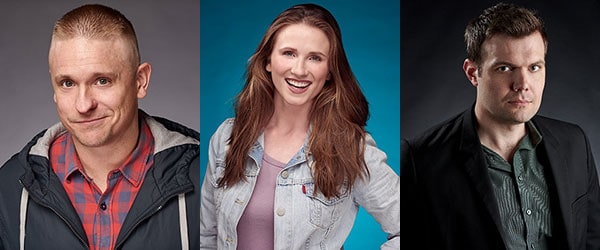 You're ready to launch your acting career. Or, maybe you're ready to take it to the next level. Wherever you are in your acting career – short of already being crazy famous – you're going to need good headshots. They are an absolute must, as 100% of casting directors demand them. But it can be daunting to find a good headshot photographer in a city like Los Angeles or New York. So, what's an actor to do?
This guide is meant to be definitive in providing you with end-to-end advice, so the results will be to ensure you had a great experience and great results from your actor headshot session.
Finding the Best Actor Headshots Photographer
Getting good headshots starts with finding a good photographer. To do this, you must acknowledge or accept a few realities. It will cost money, though it doesn't have to be a ridiculous amount. It may require you to travel across the city and that costs a bit of money too and takes a bit of time. And, it will require a bit of research.
Once you accept these realities, you'll be more open to finding the best actor headshot photographer for you. Start by making a list of where you're willing to travel. For example, if you're in Santa Monica, are you willing to travel to downtown Los Angeles, to Long Beach, to Glendale, to Studio City, or to other such cities if it means working with the best photographer on your list?
Once you've created a list of cities you're willing to go to, search for headshot photographers in those cities. Create a list per city that you're comfortable with, maybe of the top two, three, four or five per city – depending on how many cities are on your list.
Be sure to check out their reviews on Google, Yelp, and with various other online listings. This will help get your list shorter. Before you count anyone out, visit their website to check out their portfolio. If they don't have a website, it's probably a red flag. While you're checking out their portfolio, you'll also want to see details about their studio, including photos of the studio space. If these details aren't on their website, they may not have a studio or may have a home studio and you'll need to be comfortable with that.
How to Evaluate a Headshot Photographer's Portfolio
When viewing their portfolio, be sure to do so on a desktop monitor or very high-resolution laptop, and not just on your smartphone. Despite the mobile craze, around half of all Internet use is still done on a desktop. And, when on a desktop people stay on pages around 25 percent longer – that could mean an agent you want to work with, casting director and so on.
The quality of headshots can be hidden on a smartphone. So, be safe and don't rely solely on evaluating a headshot photographer's work only on a smartphone. This is a very important point – borrow a friend's computer if needed. Their portfolio should look good on a large display too.
When evaluating their portfolio, you will want to try and figure out if they are using studio lighting or natural light – more on this later. You'll also want to see if they can do commercial and theatrical looks – more on this later too.
Figuring Out the Value a Headshot Photographer Offers
Once you've made your list shorter by eliminating photographers based on their weaker portfolios or lack of a studio, you'll need to consider the value behind their work. Value is two-fold – how much it costs and what you receive for that cost.
If you don't see rates readily listed online, you'll want to contact the photographer. It's best to get rates sent to you via email or text so you have it in writing. Be sure to ask for complete details on what's included and for clarity on what a look change is. Also, are retouches covered and for how many photos. For example, one photographer may consider a look to be a quick change to a new outfit but not a different background while another photographer might consider a look change to be either. It's important to get clarity on these details so there are no bad surprises.
Be sure to find out how many photos you will be receiving, how many – if any – are retouched and is retouching included. Ask what type of files you will receive – are they print quality, web quality or both? You might need to print your headshots at some point and it can be inconvenient not having print-quality shots ready-to-go when you're suddenly asked for them.
Learning About the Equipment a Headshot Photographer Uses
The equipment a headshot photographer will use is important – it's part of the value they offer. If they have good studio lighting and rates in line with another photographer that is only going to do natural light, there is good value with the photographer that will use studio light.
Also, the specific camera brand or brand of studio lighting a photographer uses can be a value indicator. Don't be afraid to ask a photographer what gear they plan to use to do a little research on those brands so you can again determine value between photographers.
There are also other gear considerations. What available backgrounds do they have? Do they have the gear to do any type of headshot? Do they have various light modifiers, and more.
You don't have to spend but a few minutes looking into these details to help evaluate a photographer and make your list of possible actor headshot photographers shorter.
Technical Processes Behind a Good Headshot
Getting the best actor headshots can be broken down into four parts. It takes these four parts, and each is approximately 25%, to get to a 100% A-grade. It takes a good camera, good lighting, good skillset by the photographer, and good post-production. For each of these that are missing, you can take away approximately 25% from the end result – that easily, you can get to a C-grade.
If you're looking for maximum quality, ideally, you'll want to work with a photographer that is using a camera with a full-frame sensor and lenses that are considered premium and ideal for portraits. You'll also want good-quality studio lighting.
Again, don't be afraid to ask about the brand they use and why they favor it. As for the photographer's skillset and post-production capabilities, that should be evident in their portfolio. But, you can certainly ask about it too.
Commercial vs. Theatrical Headshots
Depending on the type of roles you're trying to book, you'll need one of two common headshot types. They are commercial headshots or theatrical headshots. In most cases, actors commonly want at least one of each of these looks from a headshot session.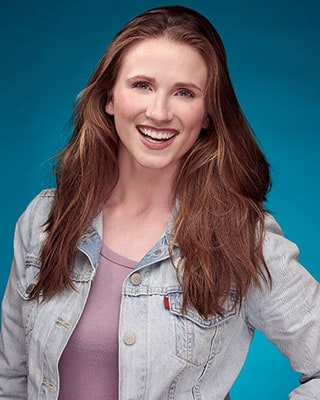 Commercial headshots are commonly said to be targeted at helping earn roles for TV commercials or similar commercials online. However, they can also be for specific roles, such as the "girl next door" or "the good guy." The lighting is generally what is referred to as flat – having few shadows and being even. An actor is usually smiling and wearing a simple top, such as a blouse, a t-shirt, and with or without a jacket.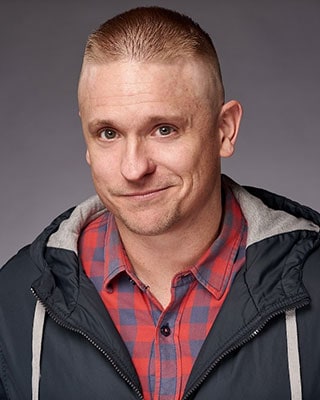 There are other variants to commercial headshots. One is a dramatic headshot, which is like a theatrical headshot, only darker or moodier in theme. There's also the comedic headshot, which is very similar to commercial headshots. Generally, we're talking bigger smiles and giggles. Perhaps a colorful background compliments the larger smiles. But, the lighting is similar overall. You might want a comedic headshot in your portfolio, well, to be cast for comedies.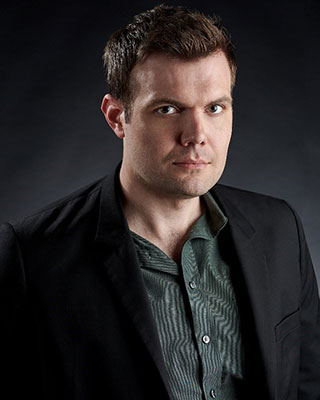 Theatrical headshots can be used for trying to land roles with TV dramas, movies, plays, and such. There can be stark lighting differences between commercial, comedic and theatrical headshots. They're often far more dramatic – the opposite of even lighting, making use of shadows in an artful way.
Getting Natural Light or Studio Actor Headshots
As an actor, you may have to choose between a photographer that only uses natural light or one that only uses studio lighting. In most cases on a show set – even when outdoors – you're likely to be artificially lit at least in some way. This is one reason you should opt for getting studio-lit headshots – it's more in-line with how you might look during a TV or online show. Overall, it's also just more flattering of a look.
You can always opt later to add natural-light headshots to your portfolio. But, to start, it's probably best to seek a photographer that can do quality studio headshots with strobe or flash lighting. If you're sure you will add natural-light headshots at some point, seek a photographer that is comfortable doing both.
The use of studio lighting also affords a photographer more control to setup lighting for the type of look you want – commercial or theatrical. Lights can be easily moved around to adapt lighting scenarios. With the sun, you and your photographer must work around it and it's also constantly moving. So, ask your short-listed photographers if they can do studio and natural light photography.
Working with Your Chosen Headshot Photographer
Ultimately, you'll arrive at a decision on a headshot photographer you want to work with. But, there's still a few more things to consider. First, how will you receive the photos from the session?
Printing your headshots is still a necessary task in some cases. So, you want to make sure that the photographer you're going to work with will provide you with high-resolution print-quality files. You may even want to ask if they provide on-site printing services. We touched on printing and file options earlier and need to dive a bit deeper into it now.
If you're not familiar with converting high-resolution digital photos to files that are online-friendlier, you'll want to ask your photographer if they can do this for you too. Depending on the camera they use, a print-quality 8×10" file might be something like a PNG or TIFF file format, in a size that can range from around 10-200MB or more. An online-friendlier file is commonly a JPEG file format that might be 50-75% of the size of the print-quality file when viewed on a digital screen. This conversion can shrink the file to be under 1MB in size. While you might notice it's a bit smaller, done correctly there is practically no visible difference in the quality on a screen – unless you try to print it as an 8×10 inch.
So, be sure you get the photos in the format you need to use them in – printing, online, or both. You should also get clarification on how many photos you'll get. Some photographers may offer all the photos but without any retouching, charging more for that work. Other photographers might offer you a select number of retouches but, no extra files. Other headshot photographers might offer both. Getting clarification on this will ensure there are no surprises and that you'll get the number of photos you need and expected.
A quick word on composition… Most headshots are cropped from around the upper chest to just above the head, though sometimes you might opt for a crop from the around where your belly button is. Some casting organizations will also ask for full-body shots and more.
What Should You Wear for Your Headshot Session
There is no clearly right thing to wear but, there are probably some things to avoid. Usually, for actor headshots, you'll want to bring a few options. For women, you might bring some pullover shirts or sweaters and some button-up shirts. Some blouse and t-shirt options might also be good along with a jacket. You might also want some shots with your hair up and down so, bring something for that.
Men might bring t-shirts and a few collared shirt options. You might also bring a couple of jacket options too, such as a sports coat or something not so serious, like a wind-breaker, hoodie or light jacket.
Regardless of what items you bring, generally stay away from busy colors or fabrics. So, no overly bright colors or plaids and minimal to no stripes. The simpler and cleaner the better. This means avoiding large logos too, such as the brand name of a clothing line or busy graphics in a t-shirt. The goal is to keep the attention on you, not what you're wearing.
As for makeup, it's totally fine. Some actors will opt for a hair and make-up artist too. Regarding jewelry, try and do little to none of it. A good rule of thumb is don't do any more makeup than what you'd wear to a casting, and the same for jewelry.
Other Headshot Considerations
So, there's a lot to consider. But the experience will be smooth if you've done your homework at finding the best headshot photographer for you.
If your look changes, you probably should get new headshots too. This could be going from long to short hair styles. It could be you've noticeably lost weight or you're simply getting older. If you change your hair color, and so on. Even if you've not changed much, if you're not having success with casting calls, it's probably a good idea to change your headshots to give those casting directors a new look. And, if you found a good actor headshot photographer to work with, they should help you into the future as your looks change or to refresh your headshots.
Rafael Larin is a headshot photographer with a studio in downtown Los Angeles. Rafael runs the Headshots by The Light Committee studio to provide corporate, model and actor headshots.