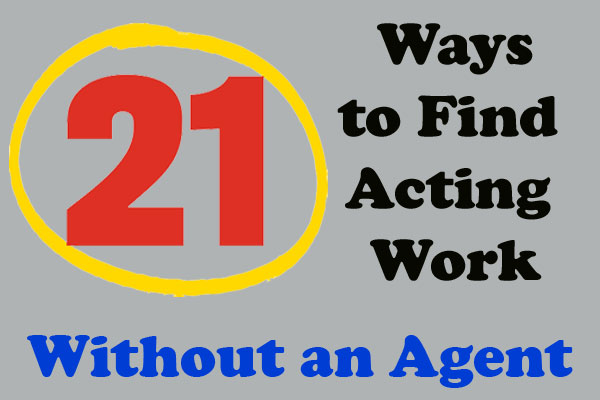 Whether you have an agent or not, it's great to be pro-active as an actor, giving yourself the best possible chances of booking work. Why would you not want to do everything in your power to get ahead?
Here are 21 ways to find acting work, without an agent:
1. Join casting sites such as Actors Access and Backstage, and apply for work on a daily basis.
2. Collaborate with others to create your own work. You could put on a play, or make a film or a web series. Not only will this create work but if you do it well, you will gain the attraction of casting directors and other industry professionals.
3. Invite casting directors, producers and directors to come and see you in plays, showcases, or to attend premieres of projects you are involved with.
4. Help other actors out by recommending them and letting them know about auditions etc. Not only will it make you feel good, but they are likely to do the same for you in the future (even if they don't- do it anyway just to be nice!)
5. Search through Facebook groups for castings.
6. Write to casting directors. This article gives in-depth advice on how to do this effectively: click here
7. Network as much as possible- search for any networking events in your area. People are way more likely to want to work with someone they already know, so be someone they know.
8. Connect with casting directors and other industry professionals on Twitter and interact with them.
9. 'Like' Facebook pages of production companies or films that are in pre-production. Keep an eye out for castings and PM them to introduce yourself.
10. Write to universities (some do pay actors) and film production companies to introduce yourself and ask if there are any opportunities.
11. Ask other actors if they know of any castings coming up for projects they are involved in.
12. Post regular, interesting content on social media.
13. Share your demo reel and films you have been in online.
14. Keep in contact with the people you've already worked with and let them know that you would like to work with them again in the future.
15. Take part in the #ShowreelShareDay on Twitter www.twitter.com/showreelshare
16. Take part in Improv Dare & Share on Twitter www.twitter.com/improvdare
17. Take part in Acting Hour on Twitter www.twitter.com/actinghour
18. Write a blog.
19. Set up a You Tube channel with a Vlog, your showreel and films you have been in.
20. Put on your own showcase and invite casting directors, producers and directors.
21. Set up a website and post the link on your videos, blogs etc.
Never wait for opportunities to come to you or for that one magic person to come and make your career. YOU are the one that has the power to make things happen for yourself but it takes continuous, persistent action. Do what it takes, until it takes.

You weren't born to be ordinary… You were born to shine!
Eirian Cohen | "I help new actors to fly into the industry like silver bullets. What you believe, you will achieve" | Founder of Northern Star Acting and co-producer of ESG Media, LTD