Victor Garber on Being Labeled a Character Actor: "I don't see that term as diminishing at all"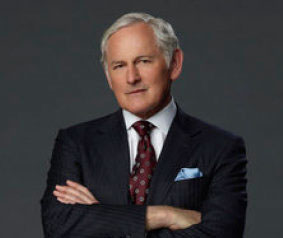 Victor Garber has appeared on and off Broadway and in dozens of films and television series dating back to the early 1970s, but now has a major role in the NBC series Deception.  In many ways it's the biggest role of his five-decade career.  That's because Garber is what would be traditionally labeled a character actor, but as he tells the New York Daily News, he is fond of that because it has allowed him to play so many different roles in his long career.
Unlike some who see the term "character actor" as a slight (i.e., "he's not leading man material"), Garber has no issue with the classification.  He says, "I don't see that term as diminishing at all.  I've always been a character actor. I think almost everyone is.  Perhaps if you're Tom Cruise it's a bit different. But I've played all types of roles over my career — and with this show, I've got another one I haven't played before."
It's been a long progression for Garber, who arrived in New York City as a teenager in the late 1960s.  He explains, "I remember having no money and getting a job in an Off-Broadway show for $110 a week.  I know that probably 99% of people who want to become actors don't get there. I've been fortunate enough to keep getting great roles like this one."
So in the end, Garber admits he's quite happy with where his career has taken him.  He sums it up by saying, "I enjoy my life. I'm very contented."
http://www.dailyactor.com/wp-content/uploads/2016/04/julia-louis-dreyfus-veep.jpg
Julia Louis-Dreyfus: "Opportunity for women in television has increased. It's because the landscape has widened"
"I did not come out of SNL as any kind of name. I didn't do anything particularly great when I was there. I didn't. It's fine. But I learned a tremendous amount."
http://www.dailyactor.com/tv/julia-louis-dreyfus/
http://www.dailyactor.com/wp-content/uploads/2016/04/Tituss-Burgess-Unbreakable-Kimmy-Schmidt.jpg
Tituss Burgess on How He Landed His 'Unbreakable Kimmy Schmidt' Role
Burgess reveals how his role on 30 Rock led to 'Kimmy Schmidt' and whether or not he'd consider returning to Broadway.
http://www.dailyactor.com/tv/tituss-burgess-unbreakable-kimmy-schmidt-role/
http://www.dailyactor.com/wp-content/uploads/2016/04/Christine-Baranski-The-Good-Wife.jpg
Christine Baranski on the End of 'The Good Wife' and Going Back to Theatre
The final episode of The Good Wife airs on May 8, and it's been several weeks since series star Christine Baranski shot the final episode with her co-stars. She spoke to The Hollywood Reporter about the end of the series she has spent the last seven years working on and what she plans to do […]
http://www.dailyactor.com/tv/christine-baranski-the-good-wife-theatre/
http://www.dailyactor.com/wp-content/uploads/2016/04/jake-gyllenhaal-demolition.jpg
Jake Gyllenhaal on 'Demolition', Working with Chris Cooper and Directors Who Want Nothing to Do With Him
"I think storytelling is the most important part of movie-making over performance." - Jake Gyllenhaal
http://www.dailyactor.com/film/jake-gyllenhaal-demolition-chris-cooper/
http://www.dailyactor.com/wp-content/uploads/2016/04/don-cheadle-miles-davis.jpg
Don Cheadle: "Be scared. Be on the edge of your creativity"
"Be willing to fall flat on your face and be in an unknown place. If you're doing that, you're probably growing" - Don Cheadle
http://www.dailyactor.com/film/don-cheadle-scared-creativity/