'Girls' star Adam Driver Thinks His Stint in the Military "was the best training to be an actor"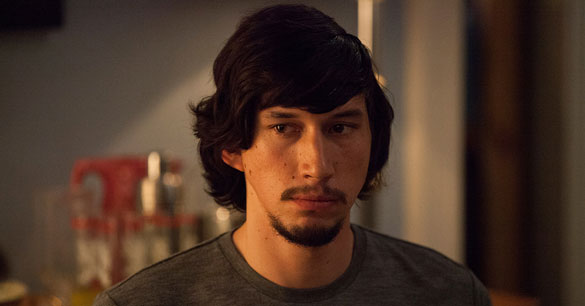 Adam Driver continues to make a splash on Girls with his character Adam Sackler, the moody artist whom he describes as "part-poet, part-rhinoceros and part-Neanderthal." It's the "part-Neanderthal" that gets his character in trouble from time to time, but Driver doesn't worry about that.
He said, "There's such an emphasis on having a character be likable. I don't think it would be helpful if I worried about that. I mean, not everyone's likable."
The actor didn't always have such success though. After giving up on living out his dreams in a short-lived acting attempt in Los Angeles, he enlisted in the U.S. Marine Corps in 2001. He trained as a rifleman, which seems like an odd career choice after his creative endeavors.
"I always think that," he laughed. "Even now as an actor. There were definitely dark nights when you're like, maybe joining the military wasn't such a good idea. But, in a way, it was the best training to be an actor. The things I took from them, the training, the camaraderie, the people I served with. That's some of the best acting training you could possibly be exposed to. You're working as a team and it's not about you. You're knowing your role and you're taking direction. You're immediately intimate with people in a weird way. You establish trust with people who are your own age who are experiencing these larger-than-life circumstances."
His military career didn't last long though. He injured himself in a biking accident before deploying to Iraq. Despite the setback, the 30-year-old actor knew was he was going to do next.
"It was very clear to me I wanted to be an actor when I got out into civilian life," he shared.
His second chance at an acting career changed his life. Given his stature and unusual looks, Driver is easy to spot in a crowd.
"I stand out anyway because I'm very tall and look kind of strange," he said. "I did the first season of Girls, Lincoln and Inside Llewyn Davis all around the same time but when Girls came out it happened immediately. Suddenly people notice you, especially in New York. I'm still trying to adjust to it."
Via The Guardian
http://www.dailyactor.com/wp-content/uploads/2016/08/imperium_daniele_radcliffe.jpg
Daniel Radcliffe on Playing a Neo-Nazi in 'Imperium': "It's still just horrible to say some of this stuff"
Radcliffe reveals how he played such a layered character and what it felt like to say his character's hate-filled dialogue.
http://www.dailyactor.com/actors-on-acting/daniel-radcliffe-playing-a-neo-nazi-imperium/
http://www.dailyactor.com/wp-content/uploads/2016/08/John-Cho-Star-Trek-Beyond.jpg
How John Cho Took A Stand for Diversity Early in His Career
"When one does speak one's mind, one might be surprised at how receptive people are." - Actor John Cho
http://www.dailyactor.com/actors-on-acting/john-cho-took-a-stand-for-diversity/
http://www.dailyactor.com/wp-content/uploads/2016/08/simon-helberg-florence-foster-jenkins.jpg
Simon Helberg on His 'Florence Foster Jenkins' Role: "I'm an actor and I want to stretch different muscles"
Helberg spoke about portraying his character in the film and whether or not he feels typecast by his Big Bang Theory role.
http://www.dailyactor.com/actors-on-acting/simon-helberg-florence-foster-jenkins-role/
http://www.dailyactor.com/wp-content/uploads/2016/08/Will-Chase-Something-Rotten.jpg
The Role That Got Away: Will Chase on Returning to 'Something Rotten!'
"I know that I am a poor man's fill-in-the-blank. And I know that there are poor man's Will Chases out there. That's just the nature of the business" - Will Chase
http://www.dailyactor.com/actors-on-acting/will-chase-something-rotten-role-that-got-away/
http://www.dailyactor.com/wp-content/uploads/2016/08/Julia-Stiles-Jason-Bourne.jpg
Julia Stiles on the Jason Bourne Series and Growing as an Actress: "There's always room for improvement"
"I like a director that encourages me to be playful. I don't really like being restricted or controlled by a director." - Julia Stiles
http://www.dailyactor.com/actors-on-acting/julia-stiles-growing-as-an-actress/