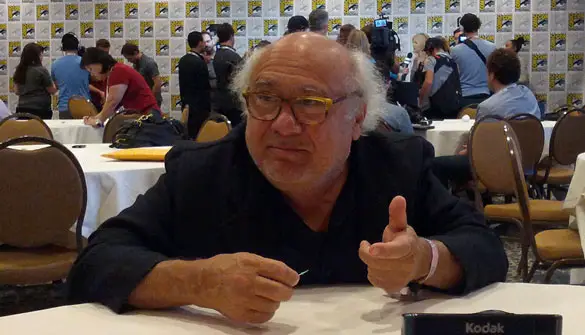 Comic-Con: Getting to spend five minutes with Danny DeVito is both good and bad. The good is that I got to hang out with Danny DeVito for five minutes! The bad is that I only got to hang out with Danny DeVito for five minutes!
I truly think Danny is fantastic and could have asked him 8 million questions but since this was a round table interview at Comic-Con, I'd be a jackass if I had dominated the interview. I did get to ask about his upcoming play, The Sunshine Boys, which he's going to star in with his former Taxi co-star Judd Hirsch this October in L.A. He also chats about It's Always Sunny, working with the cast (Charlie Day, Rob McElhenney, Glenn Howerton and Kaitlin Olson)and the big move to FXX.
Check it out below!
It's Always Sunny in Philadelphia premieres on September 4th on FXX
So, tell us about the new season.
Danny DeVito: I'm very excited. We did our… we've completed our 9th season, it was off the charts, really great. We always do just as crazy as you can get and they usually put me in situations that are… at the very beginning when we started it was like, 9 seasons ago, when I read the first couple of shows that I was going to do, I loved the work. The writing is great, the guys are great, Kaitlin is great. I said, "What we have to do is keep stretching the envelope. We've got to keep pushing it." And, boy, after a couple of years they started taking me really seriously and we've just… we just keep going.
Climbing out of couches.
Danny DeVito: Oh, God. This year I was like in tighty whiteies stuck in a coil in the middle of a playground? I don't know. It just got crazy. And the weird thing about it is that there aren't many things that… I mean, I don't ever say, "No, man. That's too much." You know? And I guess that's part of the deal with Sunny, they just keep digging that hole deeper and deeper and try to get out. I don't know, this next season, the 10th season, we start… we go to work in April or something for the following year. I just don't have any idea who's gonna go crazy because it's… this year they were going nuts and I think… I don't know what they do in their private life to make them so outrageous. They're all sweet people.
Does anything change because you're moving to FXX? Has anything been different or more outrageous or anything?
Danny DeVito: No. No. We just… we love the idea that Landgraft, that's John Landgraft at FX is doing… the whole company is doing really well. And they're branching out into these FX, FXX, and FXM and we're on FXX and I think we premier on the 4th of September and that's really cool. The thing is that you want everybody to find the show and I don't think it's gonna be hard. It's just a matter of… I usually… I DVR everything. So you stick in It's Always Sunny in Philadelphia and it finds it for you and then you go wherever it is. Me, it doesn't matter. If I like a show, it doesn't matter where it's shown, I just go look at the show. And I try everything usually, just if something's coming on, some new show, I'll just locate it. I'm not a good person with the numbers where I'm going. So thank goodness for the technology that gives me my entertainment.
When do you start going into rehearsals for The Sunshine Boys?
Danny DeVito: In a month. Hence the hair and just trying out some stuff. I'm very excited, I start in a month. Last year we had a tragic thing, Richard Griffiths, we lost him. We did the play and it's a wonderful play, it's a Neil Simon play. And Judd Hirsch is gonna do it with me and I'm so excited about that. We did a play together in Philadelphia in 1969, I think. That's the last time we worked together before Taxi, but on the stage. It's gonna be really a lot of fun. It's at the Ahmanson.
Any plans to bring it to Broadway?
Danny DeVito: Well, we don't know. We'll see how it goes. The big thing is to see how much we enjoy it and the audiences enjoy it. I'm sure they will, I mean, I hope. And David Krumholtz is playing my nephew, so I think it's gonna be a lot of fun, the 3 of us up there.