Trailer: 'Hide Away' starring Josh Lucas, Ayelet Zurer, James Cromwell & Casey LaBow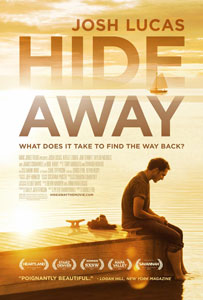 I saw this film at the 2011 SXSW Film Festival when it was called A Year in the Mooring. I thought it was great and Josh Lucas was wonderful in it. I hope the only thing they changed was the name.
Hide Away: Directed by Chris Eyre (Smoke Signals, Edge of America) and an audience favorite at SXSW festival, HIDE AWAY is a stirring drama that follows the story of a successful businessman (Josh Lucas) attempting to resurrect his life. Entering an idyllic harbor as a broken and haunted man, he buys and boards the dilapidated sailboat, Hesperus. Disturbed at night by unsettling dreams of his past, the boat becomes a beacon of hope as he begins the challenge of bringing back the shine to the tarnished vessel–and to his life.
Director: Chris Eyer
Cast: Josh Lucas, Ayelet Zurer, James Cromwell, Casey LaBow
Writers: Peter Vanderwall
In Theaters: May 25th   
http://www.dailyactor.com/wp-content/uploads/2015/09/Tom-Hardy-Legend.jpg
Tom Hardy on Playing Twins in 'Legend,' Being Seen as a Tough Guy, and Working with Philip Seymour Hoffman
Hardy speaks about why he challenged himself to play twins, what he thinks of his tough guy image, and working with the late Philip Seymour Hoffman, who directed him on stage.
http://www.dailyactor.com/actors-on-acting/tom-hardy-playing-twins-legend/
http://www.dailyactor.com/wp-content/uploads/2015/09/Emily-Blunt-Sicario.jpg
Emily Blunt on Action Movie Roles: "I think it's important to show different layers. Nobody is just tough, nobody is just vulnerable"
Emily Blunt touches upon why she has gotten into roles with an action bent and why she thinks there aren't more action movies with female leads
http://www.dailyactor.com/actors-on-acting/emily-blunt-sicario-acting-layers/
http://www.dailyactor.com/wp-content/uploads/2015/09/Jorja-Fox-CSI.jpg
Jorja Fox on Life After 'CSI': "I've always enjoyed not knowing exactly where the road leads"
"I think you kind of have to embrace the unknown if you're an actor." - Jorja Fox
http://www.dailyactor.com/actors-on-acting/jorja-fox-life-after-csi/
http://www.dailyactor.com/wp-content/uploads/2015/09/John-Turturro-Mia-Madre.jpg
John Turturro on the Life of an Actor: "It's a rough business. I wouldn't want my kids to do it"
"I am usually very well prepared. If you're a surgeon, you've got to know what you're going to take out today." - John Turturro
http://www.dailyactor.com/actors-on-acting/john-turturro-life-of-an-actor/
http://www.dailyactor.com/wp-content/uploads/2015/09/Matt-Damon-The-Martian.jpg
Matt Damon's Controversial Comments on Actors Keeping Their Real Lives a Mystery
"I think you're a better actor the less people know about you period. And sexuality is a huge part of that." - Matt Damon
http://www.dailyactor.com/actors-on-acting/matt-damon-actors-keeping-their-real-lives-a-mystery/